Registration now closed. Sign up for our weekly newsletter to get details on the next Feng Shui class.
Join me on Monday September 17th at 7:00 PM CST for the second Feng Shui Masterclass in this series.
I am a Certified Feng Shui Practitioner (Certified in 2007 through the Canadian School of Feng Shui with Sharon Hay) and have a true passion for helping others achieve prosperity, love and success in all areas of their lives. I have been actively using this practice with mind blowing results and I'm thrilled to be sharing my knowledge with you!
In the first Masterclass we discussed the introduction and the basics of Feng Shui so you could have a better understanding of exactly what the practice is and how to apply it to your life everyday in order to bring about success in all areas. Simply and easily. The class was a huge success and all the participants got SO much out of it!!
If you missed the first class you can still purchase it below. I would highly recommend doing so before you join this class if you have a limited understanding of Feng Shui. 
The 5 Elements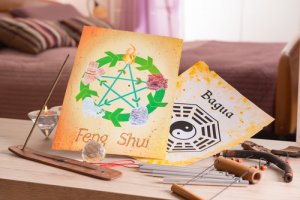 In this Second class in the Feng Shui Series we are diving deeper and discussing the 5 Elements and how they affect each area of your life. In this jam packed one hour long LIVE class we will be learning:
what the elements are
how and where to use them
the controlling cycle
the destroying cycle and
how to balance it all out.
Elements play a monumental part in decorating and enhancing our spaces for harmonious living. Having the wrong element in the wrong area can have devastating effects on your life and your success in any or all areas of your life. In this class we're going to learn how to recognize each element and the role it plays in our space.
Be prepared to take lots of notes!! We will leave no elemental Feng Shui stone unturned in this Live masterclass. This will be a fun and interactive class and I'm so looking forward to seeing you there! Bring an open mind and your favourite beverage (coffee, tea, wine, tequila? ). There will be 30 minutes of Q & A to follow.
All this will be done in a private Facebook group. Your link to this group will be in your confirmation email. Make sure to check it!
SPOTS ARE LIMITED FOR THIS LIVE CLASS SO BOOK YOURS NOW!!

If you missed the first Masterclass the replay is still available to purchase for a limited time only. You can purchase that below. If you have limited knowledge of Feng Shui I highly recommend taking the first Feng Shui Masterclass in order to get the full impact and understanding of The 5 Elements Class. I truly and sincerely believe that it will better serve you and your Feng Shui efforts to fully grasp the concepts of Feng Shui before diving into the 5 Elements class. It's not a prerequisite but please know that in the Q&A that follows the Elements class I won't be answering any questions on the basics or principals of Feng Shui.