This article is from guest blogger Susan Wagner.
Supporting my son and the LGBTQ Community
When my son, Lindsey, came out to me during a Facetime call, I was in shock. Totally confused by my feelings; I felt as if the room spun out of control. But then, in the same few seconds, while I was trying to deal with my emotions, I saw a glimpse of the emotional and mental pain he was in, and how terribly scared he seemed of my reaction to coming out to me.
I can't imagine the fear he felt at that moment. Will she reject me now? Will she still love me?
Is our relationship going to be as close as it was before I told her? And this conversation was made especially hard because we were 16 hours apart from each other. My greatest fear was due to being so far away from him would feel alone and groundless. I was in constant contact with him for the next few days giving him support through long talks, a lot of time just listening to him and how he was dealing with his emotional state.
I not only support my son, but I am extremely proud of the person he has become.He is a fun-loving, adventurous, caring man with a phenomenal sense of humor and a huge compassionate heart that is now comfortable in his own skin, as he should be.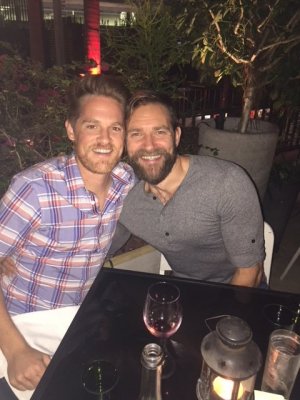 (Lindsey on the left :) )
But, did you know researchers have found that attempted suicide rates and suicidal idealization among LGBTQ youth are comparatively higher than among the general population? Without the support from parents, the chance of suicide by an LGBTQ youth is 58%. However, with support from parents, the chance of suicide drops to 4%. What a staggering statistic. But coming out to parents is extremely difficult for them.
One of the most important things these young adults are looking for is "parental acceptance." Being a part of this community holds many challenges; therefore any support is imperative to all involved. Starting at a young age, much LGBTQ youth hide their true identities from the people they love the most because of fear of rejection or abandonment.
All they really want is to belong.
If you are struggling parent of an LGBTQ child and need some guidance to better support your son or daughters consider these steps.
Support your child. The sad reality is they may not get the support from those they need it from most; therefore, this task falls on the parent's shoulders.
Listen to your child. Communication is vital to understand their feelings and thoughts.
Educate yourself. Here are a few articles, blogs I found that maybe helpful for you.   https://theevolveproject.org/empowerlgbt/https://www.campuspride.org/blog/  impactprogram.org
If I can be a resource or a sounding board for you and your family through this journey please feel free to reach out. I would love to hear from you. My email address iswagnermsusan@gmail.com
"Never be bullied into silence. Never allow yourself to be made a victim.
Accept no one's definition of your life; define yourself!
– Harvey Fierstein
I opened a door and walked through it telling you this story. I am not embarrassed or ashamed, I am over the moon because he is happy and living the life of his dreams. The picture above proves that.
Love and Light,
Susan
Susan Wagner is a writer, motivational speaker and a Life Coach from Southern Indiana who is passionate about inspiring women to conquer their fears and reach for the goals they are craving in their lives. Her mission is to empower every woman to thrive not just survive in their truth and lives. Susan is a travel junkie, avid nature lover, avid reader and a Vision Board addict. You can connect with Susan on her website www.susanmwagner.com