These past few months have been rough. I'm not gonna lie. I've been struggling a lot with making my business work for me. I'm working up to 12 hours a day every day to promote, create, network, market, write and everything else I feel I should be doing. I'm meditating on it, journalling it, manifesting, you name it, I'm doing it. Some days I'm not sure if anything is working. I decided I needed to make a drastic change. I decided to hire God as my business partner.
I was reading an article on Medium the other day and it spoke so loud and clear to me. It was like a huge light bulb moment for me. I love being a writer there. The stories are great as are all the other writers. Anyway so this post was amazing to read. Take a second to check it out here. Though my story and situation is slightly different than hers, I totally get where she's coming from. So…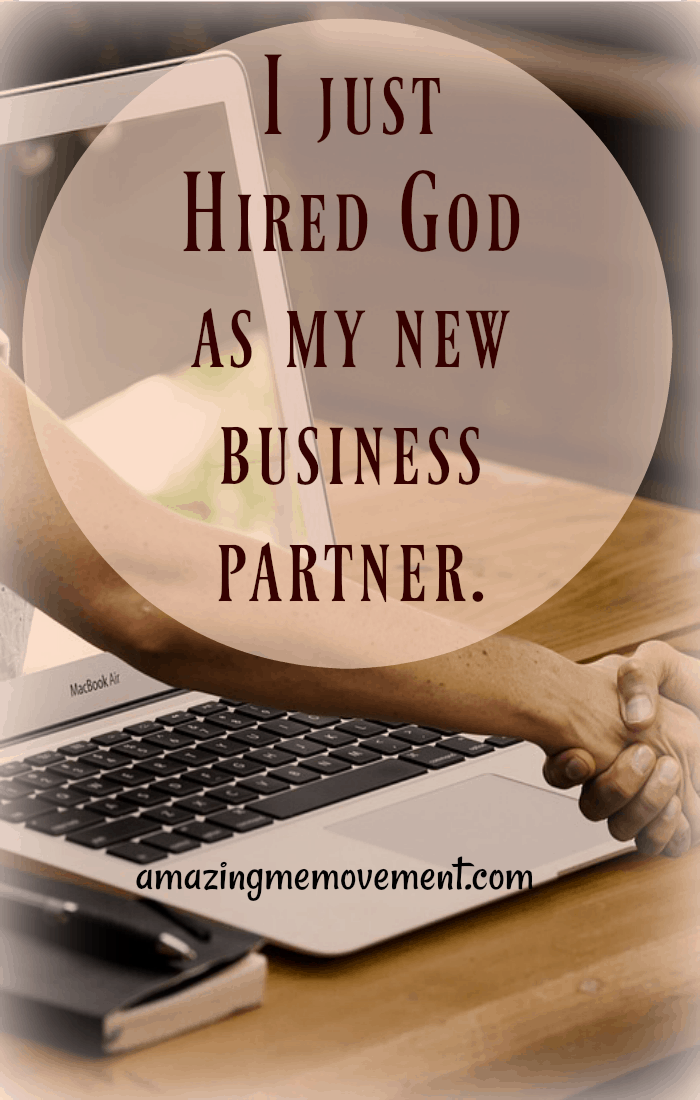 I decided to hire God as a business partner
It's not that he applied for the job or anything and it's not like I was even looking for a business partner. Not like I have a budget for it. But it dawned on me, that I just can't do this alone anymore. I've been working alone for the last 7 months and I'm no further ahead. It was time to make drastic changes.
Now I probably could go find a job mind you here in Guatemala that ain't so easy to do. I've been picking up the odd writing job here and there but I need more than that. I really needed to hire someone else who doesn't need to be paid in money. God was perfect for the job.
He doesn't ask for much
We've already discussed pay and He said it's not necessary. All He asks me to do is be faithful, have trust, release and let go. Oh, He also said I need to pay attention to signs, and listen to my heart. Sounds like I have a lot of work to do.
I told Him what the job entailed. He has to stay with me, comfort me, carry me, guide me, send me signs and signals, He has to point to things that wouldn't have been obvious to me. He has to take my work and bring it to people who need it, all the while I need to trust and let go.
He needs to reassure me on a daily basis that I'm on the right path and if i happen to fall off my faith path He has to gently nudge me and get me back on the path.
He also has to show me miracles. He has to deliver miracles and blessings.
It's a big job
There are a lot of duties in this position. To be my business partner, you have to be on guard 24 hours a day, 7 days a week. You have to pick up and carry 125 lbs whenever she falls.
When I decided I needed to hire someone it barely took me a second to realize there was only going to be one suitable candidate for this job.
I talk to Him every morning and every night. We talk before meals, I talk to Him randomly throughout the day. We're already pretty tight and He already knows my troubles and struggles. He understands my work and my business model so who else would I hire?
I think I chose the right candidate
I feel very confident in my decision. I had a talk with Him last night and said "Hey as you know, my business isn't doing so well, nor am I, so I am going to hire you to be my business partner. I clearly can't do this alone anymore and I can't think of anyone better than you. I hope you know and understand all the work involved in being my business partner. Are you ok with that? Great stuff. Welcome to Amazing Me Movement. We're happy to have you join our team"
I prayed, we virtually hugged on the deal and I smiled.
Finally. The best business decision I've ever made. Today I decided to hire God to be my business partner and I'm excited for our future.
Peace and Love
xo iva xo
(this post contains an affiliate link so if you make a purchase I may make a small commission)