Welcome to The Amazing Me Movement
Welcome one and all and thank you so much for stopping by my little online home. My name is Iva and I am super happy that you are here with me. This site is for you, for me, for us. It's a place to grow, learn, laugh and love. My blog is where you will find real life stories. They are written to inspire, empower, motivate and help you live a life of ridiculous joy because, let's face it, that's why we are all here.
The Amazing Me Tribe was created to help you:
flick fear away
embrace change
be bold, brave and badass
live the life you deserve
forgive and accept others
be non-judgemental
help others
give and love unconditionally
spread peace and love
So who am I?
You're probably wondering what makes me an expert on happiness and being amazing. I'll keep my story as short and sweet as possible.
I'm just an everyday gal that has gone through more trials and challenges than you can shake a stick at. I've been through abuse, failed marriages, poverty, two bankruptcies (count 'em, two), and more careers than anyone in their right mind should go through. And all this as a single mother. My life, for the most part, has been filled with constant struggle. There were many points throughout where I wasn't sure I could take much more.
When I left my last relationship in 2013 I decided it was time to take back my power and create the life I want. The life I deserve. One filled with happiness, love and peace.
So off I went to do just that. To be free, happy and, most importantly, love who I am.  It's taken me just a little under two years to get to where I am now but I am still learning and growing. I'll tell you right now, it hasn't been easy BUT it's definitely been worth it. My life now is full of awesomeness and yours should be too.
It's now my purpose in life to inspire and empower others to do that too. You can subscribe to my blog updates (I blog once a week) or my newsletters (they go out once a month). My Facebook page is always a fun place to hang out too where I go Live 3 times a week with crazy inspirational messages and stories for you followed by an Angel Card Reading.
What else do I want you to know about me?
After a 3 week volunteering stint in Costa Rica in May of 2015, my whole life and world changed. I returned home, sold all my belongings, became a hard core minimalist and am currently in Guatemala volunteering. My whole life, all 53 years, fits inside 2 suitcases. Why do you need to know this about me?  Because I realized, finally, what my other purpose here on earth is. It is to give as much love and help to others as I possibly can. It's also to spread the message of love, compassion and kindness to each and every soul on this planet. I am hoping that I can inspire others to donate some of their time to help the less fortunate. The world needs more helpers.   
From Hell to Happiness
Before you leave, please do check out my new self help guide From Hell to Happiness. This eBook was created from my heart to yours and it is a powerhouse guide to help YOU live the life YOU deserve. I take you step by step from Hell to Happiness. Click the image below to download your copy now!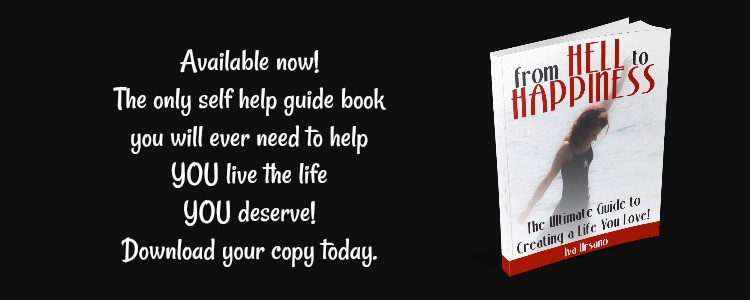 Peace and Love
Iva