The Feng Shui geek in me comes out for this blog. So many of us have negative energy and aren't even aware of it. Energy is in everything and everywhere so we kinda want it to be fresh and clean, not toxic. There are many ways to get rid of negative energy but I'm gonna show you 5 simple steps.
But first, let's talk about energy, toxic energy and clean energy.
(this post contains affiliate links so if you make a purchase I make a small commission)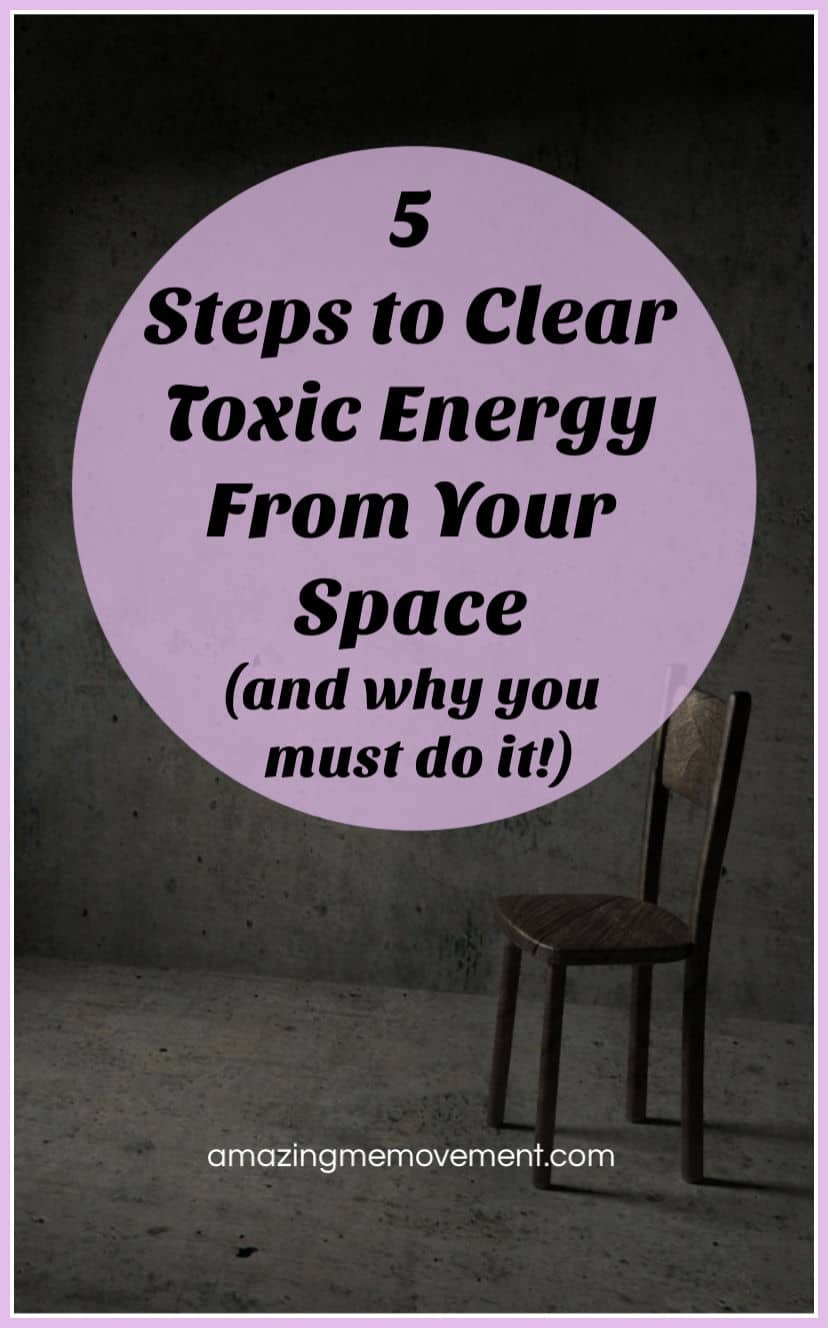 Clean energy versus negative energy.
It's really important to understand that energy is everywhere. So many people just don't get this. I never used to until I started studying Feng Shui but even without knowing or understanding Feng Shui, we have to understand that energy makes up our entire world, universe, space, life, you name it, it's in there.
Do you ever walk into a room or meet someone and something just feels off? Maybe the vibes from the person are cold or the room you just walked into feels heavy. That's energy. That heavy feeling you feel from the room is negative energy that has yet to be cleared.
Believe it or not, this energy can actually make you feel sick. Yup. That's the power of negative energy.
Think about how you feel when you walk into a sunshiny bright cheery room. It makes you feel alive and happy, right? That's clean energy. You will carry that feeling with you for the rest of the day. Same with the negative crap. That will also stay with you all day.
Can you see how powerful energy is now?
Remove negative energy
It's so important to remove negative energy as soon as you feel it or know that it's there in the room. If you've been feeling down or sad lately and have been in a slight funk, all that you have been feeling lingers in your space. If you want to feel better, lighter and happier it' important to remove all that  negative energy from your space.
The steps below will help with that!
Many people ask me all the time how to block negative energy and while I honestly don't think you can block 100% of it 100% of the time, I do believe you can ward off at least some of it. I'm a huge fan of gemstones and healing crystals. If you aren't entirely sure of how they work or what they are, this post might help you understand them just a wee bit more…
How to Use Gemstones to Heal Every Part of Your Life
Black Tourmaline and Hematite are two of my favourite stones to block negative energy. I have bracelets with these stones and wear them all the time. You can check out these stones here. Click the images for more information
This is a black tourmaline bracelet
And this is a hematite wrap bracelet

You'll be surprised how powerful the energies of these healing crystals can be. Don't knock it until you tried it!
So let's get on with clearing negative energy now, shall we?
Space Clearing for Negative Energy.
Some of you may know what that is and others may have never heard of it but I can tell you one thing, it is absolutely imperative that you do it, at the very least, once a month.
I usually do it about every two weeks and it generally takes me about 15 minutes but that could be because I live in a cute little apartment. For larger spaces, obviously, it will take you a little longer. Space clearing is something you should do when:
there has been any kind of stress in your house
there has been a death or illness
you've just moved into a new place
a relationship has ended
any other negative thing has just occurred in your life
you just need to change the energy in your place
Quick! What is it and how do I do it?
Well first of all it's mega easy peasy to do. Trust me on that one. It's also kinda fun and liberating and you may find yourself doing it more than once a month after you get the hang and feel of it.
Space clearing is a shifting or cleansing of the negative energy in your place. Have you ever noticed that the air or a room feels heavy or dreary? Almost depressing- like?
You kind of feel sad or maybe even tired with little to no energy? If you have felt any of those things, then that's your cue to do a clearing!
The steps are easy. There are many sites on the internet that tell you how to do it and they are all pretty good but I've narrowed it down to a few simple steps that feels right for me. You will know what feels right for you. The only materials you will need are:
sage smudge stick
soft music
lavender or lemon grass spritzer
That's it, that's all. Make sure you are alone or with no distractions. The best time to do a clearing is between 11 am and 3 pm. Turn on the soft music, light your candles (these you can have burning safely on your coffee table or dining room table, wherever really) and sage smudge stick, open your windows (if you can)  and here we go.
Starting at your front door
…and moving clockwise, take your sage and carefully go from room to room, closet to closet allowing the smoke to cleanse every inch of your space. (I will carry a tin plate and hold it directly under the sage to catch any ashes that may fall)
As you do this
…imagine all the negative energy burning away or getting cleansed and turning into positive energy. Hold those thoughts the whole time. You can even talk or pray while doing this. I usually say "good bye negative energy, hello happy positive energy, welcome back into my home" or something close to that.
Do the entire place
…closets, behind doors, every nook and cranny and then finish back at the front door. Take a few deep breaths here, maybe even say a little prayer if you feel inclined to do so.
Now take your lavender
…or lemongrass spritzer and once again, starting at the front door and moving clockwise, refresh the air and your rooms with your spritzer. ( I like doing this because it gives the air a wonderful fresh clean scent after burning the sage which, in my opinion, doesn't smell too nice)
You are now done
…and should go have a shower and put some fresh clean clothes on.
I always tell people that if they don't feel much better after a clearing to do it again. You may not feel 100% better but you should definitely feel a little lighter and happier!
Go ahead and try this and if you ever have any questions, shoot me off an email.
Did you love this post? Does what I share with you move you in any way shape or form? Do you love the blogs I share with you? If anything I have ever shared with you has inspired, motivated, empowered or enlightened you please consider supporting my work by buying me a coffee!! A simple, small and lovely way to say "Thank you Iva"!! Click the button below. Thank you love you!! xoxo
Happy Feng Shui'ing
Peace and Love
Iva