The new moon is fast approaching and you know what that means? You don't? Lemme tell ya. It means to hell with the past and prepare for a brighter future AND love ahead. The new moon in December is on the 18th of the month and like any new moon, it really is about forgetting the past and all the bull and getting ready for a happier tomorrow. And what about love? Look out. There is love ahead!
But……only if you're ready.
If you follow me you know I love the energy of the moons, full and new. The full moon wraps me in love and comforts me. It soothes all my wounds from the previous month. The new moon is a time for me to set my intentions and open up to allow them into my life.
Forget the past
Forget everything about it. Unless of course there was some good stuff that happened! Then yay for you!! For me, this past month was a tough one. My heart was broken and I've cried almost every day so far. Don't feel sorry for me, it was my own fault, I only share that now because I like keeping it real with you guys :)
I desperately want to say to heck with the past. Bring on some good stuff for goodness sake. I am SO ready. But don't forget the lessons from the past. You already did, didn't you? There are lessons in every single trial we go through.
Yes the new moon, and I, want you to leave the past behind, just not the lesson. You'll need that for your bright future.
Are you ready for love?
YES! Dammit, I sure am. This new moon will have a loving tone to it. It's all about loyalty and respect. If someone has deep feelings for you, you'll feel it this month. More so than ever. If you are single and available, this new moon could have you meeting someone new, that someone special, and it could be the one!
This new moon also wants you to know your worth! If you are looking for love, don't settle and don't grab onto any John or Sally just because you are feeling extra lovey (or horny) and emotional this month. Love yourself first.
Now let's get serious
Not looking for love or could not care less about it? Are you more of the strong mature creative work type person? This new moon has your name all over it too! Creativity is at an all time high and opportunities are all around you. People and prospects come out of the woodwork for you. Keep your eyes open for them and don't say no.
It's time to get down to business and set the tone for 2018. This new moon urges you to do it now. It's the perfect period for it. Don't be afraid to take on more work or duties than usual this time. You are laying down the foundation for your future. Remember, hard work does pay off. You will reap your rewards next year. This is your time.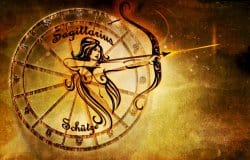 This new moon also happens to be in Sagittarius and we know how they love to have their hands in everything. Focus. Know what you want and work towards that.
Next step?
The effects of the new moon last the whole month, four weeks, right up to January's new moon but the best time to act on it is the first two weeks. Set your intentions, release the past and start building your future, or at least start making notes of things that need to be done.
I like to write out new moon wishes. On the day of the new moon I sit quietly with some soft music and think about what I truly want in my life. I'll write out 10 wishes and stick them under my mattress and keep it there for the whole month. Just before the next new moon I'll take it out, read them and then burn it.
I'm not saying you should do that, but I like to do it. It keeps me slightly focused and grounded. Slightly.
Are you ready?
Peace and Love
Iva