Are you struggling to figure out how to use Pinterest properly?
Do you just plod along not knowing what you're doing yet hoping something works?
Are you frustrated because it seems everyone else is having crazy success with it but you aren't?
Do you desperately need Pinterest help?
Are you ready to take your Pinterest account to the next level and ROCK it?
If you answered "YES" to any of those questions then this guide is for you!!
In a simple to follow and easy to understand no BS way, I will take you through each and every step you need to make sure YOUR Pinterest account
stands out,
drives traffic to your site,
gets you more followers AND
makes you MORE money!!!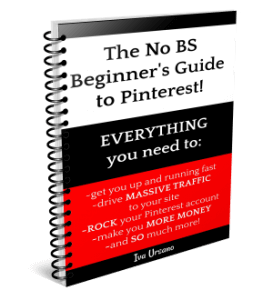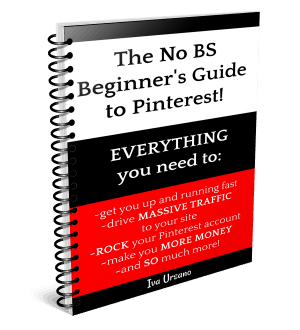 Pinterest Help has Arrived! Rejoice!
I was once where you are. I had no clue what on earth I was doing. As a matter of fact, I avoided Pinterest like the plague because I just couldn't wrap my head around it. One day I finally decided it was time to revisit one of the greatest website traffic drivers and let me tell you, I am SO glad I did!!
Since learning and applying everything I know my traffic is through the roof and Pinterest is now MY #1 traffic driver. This is what happened in only 4 short months since applying everything that's in this book
my email sign-ups increase daily,
my ad earnings have more than quadrupled,
my services/products sales on my website are consistent
my pins get TONS more re-pins, and
so much more!!!
If you're ready to take the leap and want your Pinterest account to do what it SHOULD be doing for you, then this guide is for you!