Are you tired of the shit life you have right now?
Are you totally stuck in a funk and need help getting out?
Do you find yourself unfocused, lacking clarity and feeling like a squirrel?
Are you still filled with anger, hurt and hatred from past relationships?
Are you having a hard time letting go of the past and moving forward?
Is your desire for a better life much stronger than your desire to live in misery?
Did you answer "yes" to any of these questions?
But wait, the biggest question here is….
Do you desperately wish you could find someone to talk to who totally f**king gets you??
Boom! There's the million dollar question!
It's not easy, or fun, to:
struggle financially
be full of anxiety
not know what the future holds for you
be filled with anger, hate and hurt
be so lost you feel like giving up.
I've been there!
…and yes, it sucks. It sucked so much I couldn't stand it any longer and finally took control of my life and made changes. I hit rock bottom hard and only had one way to go.
UP!!
It was time to make massive scary changes!!!
It didn't matter how scary it was. I was ready!!
I realized that if I wanted my life to get better, be better and live the life I truly deserve, I had to take matters into my own hands. And I did!
So I ask you again…
ARE YOU READY?? Really ready to take back control of your life and finally be happy!?
If you're here on this page right now and still reading then I'm gonna guess you're ready. Yay!! I'm super proud of you!
But what now? Where do we go from here?
You and me. Let's do this!
You know you've been struggling on your own for some time and you need someone to help you get out of your funk. Your best friend isn't cutting it anymore. (sorry Susan)
That's where I come in. I feel your pain. I get your pain. I totally understand your pain.
You don't need someone with big letters at the end of their name that prove they have a degree in psychology. You need someone who has survived a life of trauma and struggled her ass off to get to where she is today! That's me! 🙂
If you're wondering why the hell you should choose me to work with, let me share what others are saying: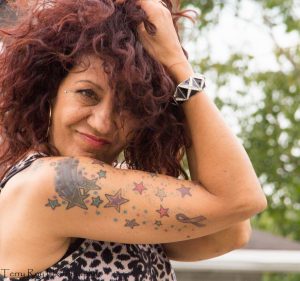 Testimonials:
You are such an inspiration to so many of us. Just when we don't know how to take our next step, you show us how it's done. When we feel we aren't worthy, you show us how to love ourselves.  L.L.
You have given me more positivity in my life in the last week than i have felt in the last year, keep it up Iva, I love you, we all love you!!!!! A.H.
You are such a blessing to so many people. You have a real gift for lifting people up and helping them to see their worth. You rock! Thanks, Iva!
Yes your amazing you have always sent messages not to quit even when there was a lot of times I wanted to but you Iva kept me above water and with lots of words of encouragements lifted me back up . I thank you for that J.S.
You know each of us, followers, have come across you on the web at just the right time in our lives where we can be inspired to make a change. I pray that I, along with all of us following you Iva, can push ourselves forward and latch on to your inspiration and learn the power of intention. C.H.
You help a lot of people out there. Some days are so bad, and there you are with positive thoughts for is. You are appreciated more than you know. This world can be a very tough place sometimes. B.C.
Iva is amazing, she empowered me and inspired me to love who I am , and the group of people here are amazing too, nothing but love, kindness, and strength. Tanya Smith
It is a joy and an Honor to watch her bring light and love to our every day world. So many people complain and point the finger of blame. She is sharing an alternative to being miserable. You have to start with your own out look on life. You may not get every thing you want or need .But once you own your own actions no one can take your joy!!! Help people, because you can. Thanks Sis'Ta! Xoxoxo Lenore Di Modugno
There was no love or hope left in my heart. My world had turned dark. I couldn't see a light. That is where Iva found me. A chance Facebook post led me to her page and her 21-day challenge. My life will never be the same. Iva's powerful message of light, love and peace that all begins within yourself led me out of the storm clouds that enclosed me. Through Iva's guidance, I rediscovered myself. I rose up from the pit of despair and embarked on a spiritual journey of self-love. I am forever grateful for Iva's influence in my life. Iva constantly challenges me to be a better version of myself in order to spread love to others. She has become more than a teacher and mentor, she has become my confidant and friend. Through Iva's daily encouragement, I developed the strength to transform my life, to face my past, to stare down my demons and to release the things holding me back. In less than five months, my entire life changed thanks to the lessons Iva has taught me. Iva guides through her realness, her humanness, her relatableness and her courage. Iva's message is simple yet powerful: Love yourself, Love others and Love life. Rachel J.
Are you ready?
Ready to join the list of others I have helped to live a true full beautiful life?
Book your coaching session today and let's get to work! You've already waited long enough to take back control of your life.
It's time to stop making excuses and start making changes!!!
Remember, nothing changes if nothing changes.
Still not so sure about me? Or this? Or life? Or whatever? Click on the "Schedule time with me" below and let's chat for 30 minutes to see if we're a good match!