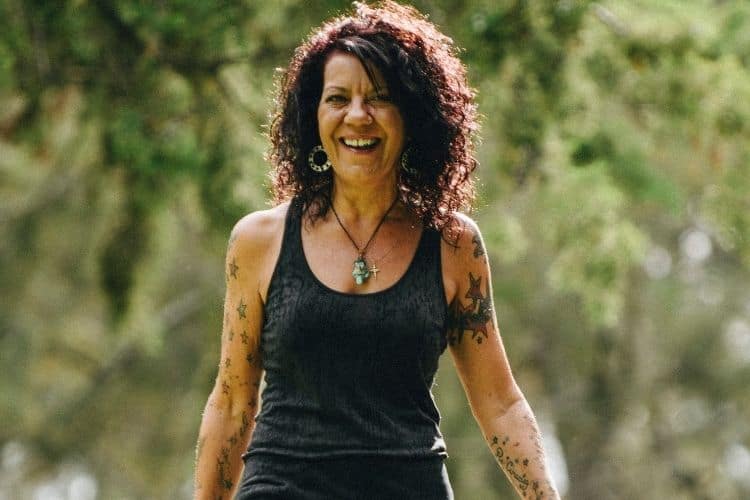 Hey!! I'm Iva, the creator of and writer for this website. Thanx so much for stopping by the about me page!
I started this website so I could have a place to share my stories of struggles and triumphs in order to help others in their healing journeys and to give them hope. I write to inspire, motivate, encourage and empower people. I do this because people need to know they aren't alone, someone gets them and there is hope.
My blogs tell my story. My story of pain, anger, frustration, despair, abuse and rock bottom.
I spent most of my life so desperately wanting a better life. That's what my stories are mainly about. How I clawed my way out of rock bottom to live the life of freedom and joy I have today.
I want that for you too.
We are all here to live a life of crazy freakin' ridiculous joy and if you aren't living that life yet, then my blogs may be just what you need to read to help you get back on track. I tell everyone this and as cliche as it sounds, it holds great value and meaning here:
If I can do it so can you.
Do what? Make radical changes in your life so you can finally be happy!!! I want you to know that you aren't alone and whatever struggle or challenge you are facing, you can overcome and rise above it.
My stories
My stories deal with physical, emotional, mental, verbal and sexual abuse as well as financial struggles and hardships all while being a single mom. They talk of heartbreak, loss, struggles, healing and happiness.
I write these stories for YOU!! Being happy and living a life of joy shouldn't feel like an impossible dream to you. It can and will be your reality if you really want it, and I know you do!!
How can I help you?
Read the blogs. Find the ones that resonate with you and read them.
If you need relationship help head on over to the Relationship section and pour yourself a drink
If you need some motivation, check out the Inspiration section for some powerful empowering blogs
If you just wanna chill out and decompress, take a few quizzes over in the Quiz section
For random things like Travel, Feng Shui and Career, the Self Improvement section might be for you
And of course I have a few books you might be interested. You can find those here You Are Amazing mini self help eBooks
So a teeny bit about me.
So who's this chick behind the wheel anyway? Here's a teeny bit more about me.
I am a 50 something Canadian young lady currently living in Guatemala. I got rid of 53 yrs of my life in Canada 5 years ago and never looked back. I left for two reasons, well 3 actually.
To escape Canadian winters
To help put a dent in hunger and malnutrition in people and 4 legged furry critters, and
Because I created a life for myself where I can up and move to wherever in the world I want (you can too!!)
In 2012 I left an abusive relationship and knew at that time, I had to do something to change my life, to fix all the brokenness, and to start working on inner peace and happiness. I was 51 years old and tired of this existence I had been calling life. My life was a nightmare, I had just hit rock bottom and I was so done being sad, miserable, and broken.
I have had a lifetime of misfortunes (2 bankruptcies), disastrous abusive relationships, and tons of trauma from my childhood (extreme physical abuse being one). I was raised in a completely dysfunctional family and lived most of my life lacking self worth, self love, self esteem or self confidence.
So ya, it was time to heal, time to work on Iva, and time to repair all the damage that had been done.
I took that whole year to work on me, finally, something I have never done before. Put me and my happiness first. I made a lot of changes and all of them were scary af.
I learned how to become a freelance writer (something I knew absolutely nothing about) and traded in my 25+ hairstyling career so I could have more freedom in my life. I had no idea what I was doing but I had a dream. A big damn dream to go to Central America to help the poor people.
And I made it happen with a ton of hard work and perseverance.
The whole time I had to keep asking myself "how bad do you want it Iva???"
You never stop learning, growing, and improving
Because of my hard work and determination to want a better life, I can now say I am finally happy. I'm not done my self improvement journey. This isn't a journey you can just stop because you think "ah ok, life is good now". Nope. It requires daily work and focus. It requires a ton of heart and faith.
I completely reinvented my life and so can you!!
Take control of your life and your happiness
Do you have that in you?
Are you ready to put in some work, hard work, and change your life? If you are, then you are in the right place. There's an old saying that goes something like this:
When the student is ready, the teacher will appear.
You know what I want for you? Inner peace, joy, love, and happiness. I truly do!! We only have one life. This is our only shot. Do you want to live a life of misery until the day you die? Of course, you don't!!!
Happiness, inner peace, joy, love, and even abundance can all be yours. But only if you want it.
I'm here for you
I write blogs for you, I wrote books for you, I do Facebook Lives for you. I even do free Angel Card readings for you over on my Facebook page! I do all this for you because you deserve a happy life and I sincerely want that for you.
You can always reach out to me at [email protected]. I'm always an email away. I also offer private Angel Card readings with some deep life coaching if this calls to you.
I'm here for you. Always.
I'm also now blogging over on Women Blazing Trails. Yup. I have two sites now. I want to make sure that I got you all covered!!
That's enough about me now
I think that's enough. To be perfectly honest, I do have a hard time talking about myself and everything I have to offer BUT one thing I really need you to know is this:
You matter, your life matters and you deserve a life of true crazy joy!! I am here to help you on that journey!
If you love this page, love my work and I have inspired you in some way shape, or form please click the button below to help support my work!
Featured In
You can read even more of my stories on other sites like the super cool ones listed below:
And if you absolutely love anything you've ever read or seen by me, you can support my work by clicking the button below and buying me a coffee. An easy and fun way to say "thank you Iva, I love you, you rock"!! :)
Mad love!!
---