10 Best Books on Healing From Narcissistic Abuse
Last Updated on 12 months by Iva Ursano
If you just ended a toxic relationship with a narcissist, this article is for you. Being in a narcissistic relationship is more damaging than people realize. Here are 10 of the best books on healing from narcissistic abuse.
If you know anyone who is in a narcissistic relationship or an emotionally abusive relationship, please share this with them. It could save their life.
This also applies to having to deal with narcissistic parents. I grew up with a narcissistic mother (she was actually a covert narcissist) who caused plenty of life long damage. I'll be the first to say the healing process never really ends.
It just gets better with time.
Before we begin, I just want to share that if you need professional help (ie a counselor or a licensed therapist) please get the help you need. It's ok to need and ask for help. This is your life.
I recently partnered with Online -Therapy and they are beyond amazing. Click here to learn more. This is an affiliate link and there may be other affiliate links in this article. If you make a purchase through these links I may make a small commission. Here's my affiliate disclosure)
Dealing With a Narcissist
It's safe to say that most of my life I was in and out of toxic relationships and dealt with an awful lot of emotional abuse not to mention:
verbal abuse
psychological abuse
physical abuse
sexual abuse
mental abuse
To say by the time I reached 50 I was an emotional wreck is an understatement. I had a lot of healing to do.
My healing came through many different modalities such as listening to motivational speakers on YouTube (you should check out this YouTube channel), reading inspirational quotes (I'm not even kidding) and of course, by reading some of the best books on healing from narcissistic abuse.
The recovery process is hard, messy, and ugly but so worth it. I promise. It can be an emotional roller coaster at times but stay the course.
If you just ended a relationship with a narcissistic partner you know that you now have control of your life and it's up to you to heal and start becoming the person you are meant to be!
Am I in a Relationship With a Narcissist?
Don't be embarrassed if you aren't sure. Many of us have no clue. I know I didn't. At all!
As a victim of narcissistic abuse I can tell you that recognizing you are in a relationship with someone who has narcissistic behavior can take a long time. I used many excuses for my partner's behavior.
Oh he's just tired tonight. Oh he's just had a bad day. Oh he just doesn't quite understand me yet. Oh he's not bad all the time, cut him some slack. You have bad days too.
Any of that sound familiar? Mm hmm
All survivors of narcissistic abuse will tell you the same thing. They had no idea. Many just assumed that their partner couldn't fill their emotional needs because of all the crappy excuses from above.
Do yourself a favour and reach out to some best friends or find support groups in your area to help you. You're not alone and you don't have to deal with this alone.
Without further ado here are the 10 best books on healing from narcissistic abuse in my opinion. A quick search on Amazon for good books on narcissistic abuse will turn up hundreds if not thousands of books, all good. I always say, read the reviews and decide for yourself.
10 Best Books on Healing From Narcissistic Abuse
In no particular order of importance (though the 2 first books are brilliant!), here are my top picks of the best books on healing from narcissistic abuse. These are some of the most popular books on Amazon as well!
1Healing the Adult Children of Narcissists: Essays on The Invisible War Zone and Exercises for Recovery by Shahida Arabi
Those who have had a narcissistic parent can testify to how damaging it can be to one's psyche. Narcissistic parents lack empathy, show a severe sense of entitlement to micromanage the lives of their children and often subject their children to neglect, as well as emotional, psychological and physical abuse. From the unique challenges daughters of narcissistic fathers face to the ways in which adverse childhood experiences affect our brains, Shahida Arabi's insightful essays resonate deeply with those who have been raised by narcissistic parents. In this new essay collection, Arabi explores how narcissistic abuse in childhood can set us up for trauma repetition in adulthood, affecting how we navigate relationships, the self, and the world. She pinpoints the toxic traits and behaviors of narcissistic mothers and fathers, exposing how covert abuse insidiously plays out in these specific dynamics.
2 Healing from Hidden Abuse: A Journey Through the Stages of Recovery from Psychological Abuse by Shannon Thomas
Within every community, toxic people can be found hiding in families, couples, companies, and places of worship. The cryptic nature of psychological abuse involves repetitious mind games played by one individual or a group of people. Psychological abuse leaves no bruises. There are no broken bones. There are no holes in the walls. The bruises, brokenness, and holes are held tightly within the target of the abuse. Healing from Hidden Abuse walks the reader through each of the six recovery stages researched and developed by the author. The stages are Despair, Education, Awakening, Boundaries, Restoration, and Maintenance. A guided Personal Reflections journal is included in the back of the book to help the reader go deeper in their application of the six stages of recovery. The journal can be used individually or in a small group setting.
3 The Verbally Abusive Relationship: How to Recognize It and How to Respond by Patricia Evans
In this fully expanded and updated third edition of the bestselling classic, you learn why verbal abuse is more widespread than ever, and how you can deal with it. You'll get more of the answers you need to recognize abuse when it happens, respond to abusers safely and appropriately, and most important, lead a happier, healthier life. Drawing from hundreds of real situations suffered by real people just like you, Evans offers strategies, sample scripts, and action plans designed to help you deal with the abuse–and the abuser.
side note-this is probably the best book on how to deal with verbal abuse and offers awesome practical advice
4 Close Encounters of the Worst Kind Second Edition: The Narcissistic Abuse Comprehensive Survivor's Guide to Healing and Recovery by Randi Fine
Close Encounters of the Worst Kind is the most comprehensive, most trustworthy, and most widely utilized narcissistic abuse guide among survivors, concerned supporters, and helping professionals. Close Encounters is a compassionate and supportive and ultimate guide to understanding the unique and complex nature of narcissistic abuse and the emotionally crippling syndrome that results from it. This groundbreaking book provides a complete roadmap through the healing process, into recovery, and ultimately to the freedom and happiness survivors deserve. Readers will find the most up-to-date information on the psychological, emotional and physical effects of NPD abuse. They will learn how narcissistic abuse infiltrates various settings including work, family-of-origin, romantic relationships and friendships.
5 Healing After Narcissistic Abuse: Recover, Move On & Heal Yourself After a Toxic Abusive Relationship With a Narcissist by Jasmine Harriet
If you are like me and a lot of women then you have obsessively googled everything about narcissists, read every single article on the internet that you could find, read numerous books and watched videos on youtube.You have now indeed confirmed that you were in an abusive relationship with a narcissistic.This book is about healing yourself rather than the main focus being on the narcissist and their behaviour. Constant research on narcissism only takes away time that could be used for implementing self care patterns for your own recovery. Even if you are struck with fear for the future, feel like you will never be able to move forward & have hit rock bottom, you can break this cycle by applying the strategies in this book.
6 Disarming the Narcissist: Surviving and Thriving with the Self-Absorbed by Wendy Behary LCSW
This is a practical, step-by-step communication guide to help you cope with and confront the narcissist in your life. With this how-to guide, you'll learn how to separate yourself from a narcissist's traps, and gain the respect and validation you deserve—while side-stepping unproductive power struggles and senseless arguments with someone who is at the center of his or her own universe. Finally, you'll learn how to set limits with your narcissist and when it's time to draw the line on unacceptable behavior.
7Dealing with the Unavoidable Narcissist in Your Life: A Strategic Blueprint for Coping with Difficult Relationships by Sydney Koh
When going 'no contact' is not an option: discover how to cope with narcissists while living under the same roof, sharing a workplace, or co-parenting. If you've found yourself in such a torturous situation, and you feel trapped and hopeless, take a deep breath: you're not alone and there's a way to regain your freedom and confidence.In this classic book, you will discover:
● How to detect subtle narcissistic behavior, and recognize if someone you care about is playing mind tricks on you
● The connection between codependency and narcissism — discover why you attract narcissists and what you can do to stop it
● What to do when your parent or sibling is a narcissist — discover how to keep your mental freedom while living with a narcissist under the same roof, and so much more!!
8 Divorcing and Healing from a Narcissist: Emotional and Narcissistic Abuse Recovery by Dr. Theresa J. Covert
A life changing book for anyone trapped in a toxic relationship.
Divorce or breakups are never easy, and with a narcissist it is more difficult especially when you do not have the help from someone who has been through the same things you have. This book is written for YOU. The information it provides is meant to be helpful in a kind, loving tone. I will not put you down, or make you feel like your experiences are your fault. You will actually learn new techniques to surpass your fears, learn how to talk to your narcissist, your support group (lawyer, doctor, etc.) and even how to discuss all of this with your family, friends and children. By the end of this book, you will feel understood, heard, confident and supported.
9Addicted To Pain: Renew Your Mind & Heal Your Spirit From A Toxic Relationship In 30 Days by Rainie Howard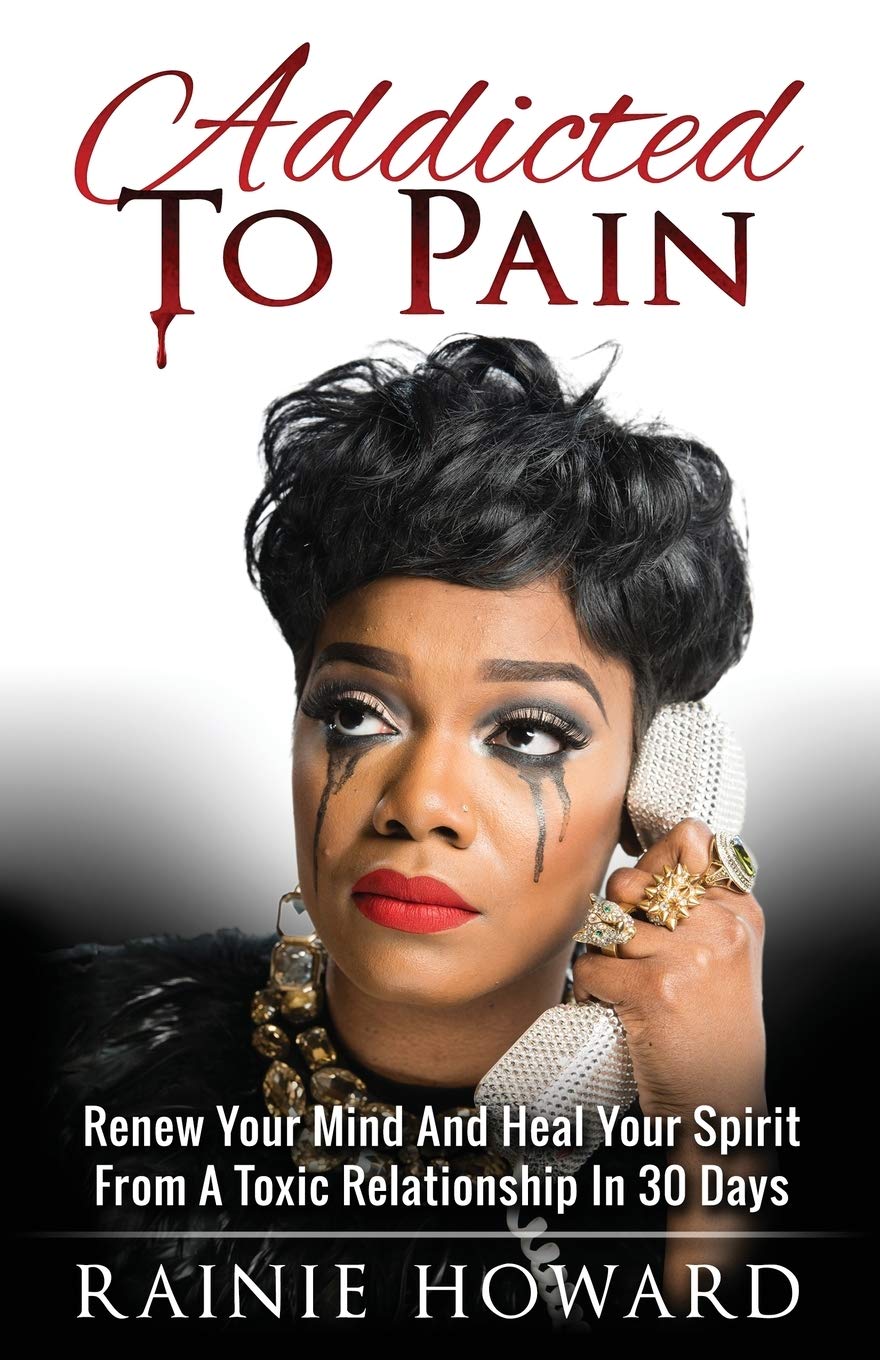 The obsession of a toxic or abusive relationship can have the same enticement as drugs or alcohol. The pattern echoes time and time again: a new significant other draws you into a new relationship that starts off loving and alluring only to develop into a hurtful or abusive cycle.It's an unhealthy view on love that will rationalize the toxic behavior and cling to abusive relationships long after they should have ended.Ranked one of the top bestseller abusive relationship books, Addicted to Pain reveals the truths every woman needs to heal from a toxic relationship and return to a life rich with purpose and fulfillment.If you've been seeking books for women and break up books to help you gain restoration from a separation, abusive relationship or divorce this is the book for you!
10Narcissistic Abuse Recovery: The Complete Guide to Recover From Emotional Abuse, Identify Narcissists, and Overcome Abusive Relationships (Break Free and Recover from Unhealthy Relationships) by Linda Hill
The Narcissistic Abuse Recovery guide will help you set healthy boundaries and make sense of the complex. It will give you actionable steps you can take toward achieving healthier relationships. When you have no idea how to properly handle narcissistic abuse, it will linger, escalate, and go on far longer than it should. Making progress with a narcissist is a challenge. It's not in their nature to take responsibility for their actions or to seek out healthy outcomes themselves. How much longer can you let your entire world revolve around the needs and wants of another? How much longer will you allow someone to make you question your own sanity? It's not your responsibility to fix them, but it is your responsibility to do the best you can for your own wellbeing.
In Summary-Healing From Narcissistic Abuse
While I've researched and found the best books on healing from narcissistic abuse for you, you have to remember to get the help you need that is right for you. Maybe a self-help book isn't your thing. Maybe therapy is.
Whatever the case, just know that your one precious life is worth it. You are worth it. You're not damaged and broken beyond repair. Healing can happen, if you want it to.
ox iva xo