What Does Your Name Mean? Find Out Now!
Last Updated on 10 months by Iva Ursano
Oh oh oh!!! When I saw this over in Playbuzz I just had to take it. You know I like to test out the quizzes before I share them with you and I loved this one. Please tell me, 'what does my name mean'? I never did like my name and when I tell people that they cringe.
Oh Iva it's so beautiful. Meh. Whatever.
I always wondered where our parents came up with some of the names they picked some 50 odd years ago. Here in Guatemala, the new moms often don't pick names for their newborns for almost a month.
Sadly, many of them wait to make sure the child survives the first month of life.
Usually they choose an American name for whatever reason. I could never understand this to be honest. It's kinda odd to see a super cute Guatemalan girl named Wendy.
(this post contains an affiliate link so if you make a purchase I may make a small commission-affiliate disclosure is here)
What does your name mean?
Have you ever wondered? Have you ever looked up the meaning of your name? I never did but maybe one day I will. For now, quizzes will have to do. I think mine is from Germany maybe? No clue.
I know when my mom was choosing middle names for all of us girls she went to some Italian calendar and whatever Saint day it happened to be, that's the middle name we got.
So after taking this quiz which is short and sweet I might add, these are my results:
– Imagination
– Harmony
– Tranquility
– Non Conformity
– Incandescent
– Magical
– Hardworking
– Freedom
– Illustrious
– Metamorphosis
I kinda like that. It actually is pretty accurate but I really love the title The Fantastical One. I'll take that!
How do you choose your baby names?
I know many moms go to their favourite soap opera to choose their new baby's name. Some moms use names from grandmas and favourite aunts. My son's name is Julian. He is kinda named after his father. His father's name was Jules but I called him Julian.
I just have always loved that name. I think it's beautiful and romantic. Ironically enough, many of my son's friends call him Jules. Ah well. Can't win for trying.
Before you find out what your name really means you gotta check out this super cool FREE offer. Click the link here or the image below, choose your sign and get your star path reading.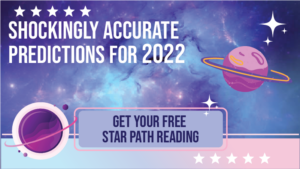 Pin
Your turn to find out
Go ahead and take this quiz. Feel free to drop your results down below if you want. I'd love to know your name and the meaning behind it too. If you liked this quiz you might also like the ones over on my quiz page. Why not take a few more!
Here are some fan favourite personality quizzes!
There Are 8 Types of People In The World. Which Type Are You?