19 Deep Brené Brown Quotes On Shame, Courage and Love
If you follow me at all you know I'm an inspirational quotes addict and you know I love to share the best quotes about life, love, hope, and encouragement. I also like to share celebrity quotes like Oprah Winfrey, Jen Sincero, Rumi (can we call him a celebrity?) and now Brené Brown quotes on shame, courage and love.
I've been following Brené a little more lately as she now has a feature on Netflix.
You go girl!!
I actually just started following her on Instagram. I'll be honest, I knew who Brené Brown was, came across a few of her inspirational quotes before but never really listened to her until Instagram stories and Facebook videos. She's the bomb. For real!
(this post contains affiliate links so if you make a purchase I make a small commission-affiliate disclosure)
Before we continue, you may enjoy these other posts that are filled with uplifting and encouraging quotes for women.
15 Strong Women Quotes That Will Boost Your Self Esteem
25 Self Worth Quotes That Will Help You Love Yourself More
10 Jen Sincero Quotes That Will Remind You How Badass You Are
Brené Brown books
So the buzz in the air now is mostly about Brené Brown and her Netflix feature but I did some Googling and found a whole slew of amazing Brené Brown books too! Trust me, I'll be downloading a few of those onto my Kindle to read for sure!
Here are a few of her books that are definitely worth checking out.
If you're needing some inspiration and maybe a kick in the butt to get some stuff done, you just might want to check out some of her books.
Also worth mentioning, if you are struggling with sadness, or have been unhappy for a really long time, desperately trying to find self confidence, self worth or even self love, sometimes talking to someone who can relate to you helps a ton. I am now offering one on one coaching! Book a free 30 minute discovery call now to see how I can help you!
Brené Brown TED talks
Did I mention that she's the bomb? In case you haven't seen it yet, you might want to check out Brené Brown TED talks. Here's a video of hers on The Power of Vulnerability. You can see it's been viewed over 40 million times. Hell-O!!
If you do nothing else today, please give this Brené Brown TED talk a watch today. You can thank me later.
Join the 21 Day Challenge today! Click the link here for full deets and to join hundreds of amazing peeps who have completely changed their lives after taking this powerful 21 day challenge!
Brené Brown Quotes-Courage is Contagious!
So let's get to the good stuff, shall we? I mean this whole post is filled with amazing information on the ever so lovely and captivating Brené Brown but you're here for some worthiness quotes on shame, courage, vulnerability, and bravery. Let's do this.
In no particular order of importance or favourites, here we go!
Talk to yourself like you would to someone you love.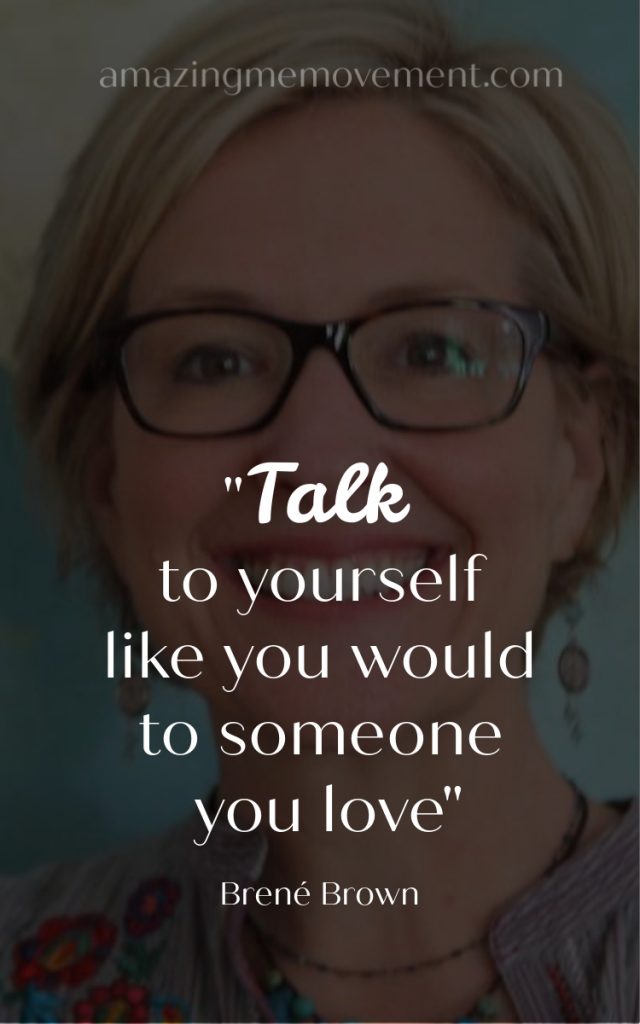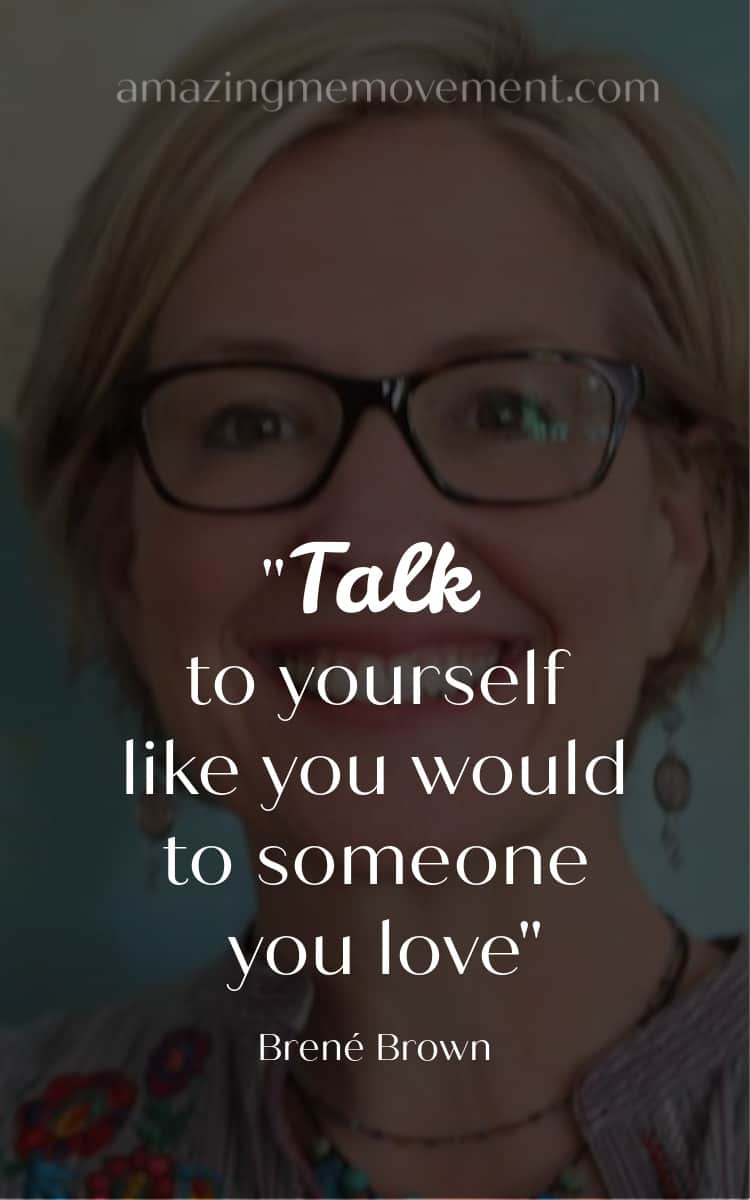 "Vulnerability is not winning or losing; it's having the courage to show up and be seen when we have no control over the outcome."
"Perfectionism is a self destructive and addictive belief system that fuels this primary thought: If I look perfect, and do everything perfectly, I can avoid or minimize the painful feelings of shame, judgment, and blame."
"Let go of who you think you're supposed to be;embrace who you are"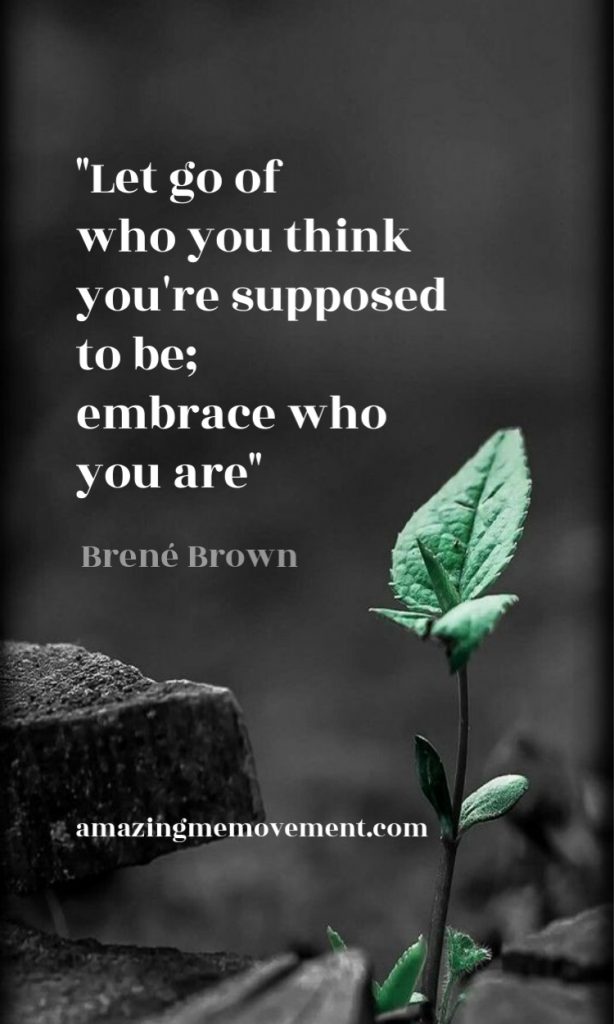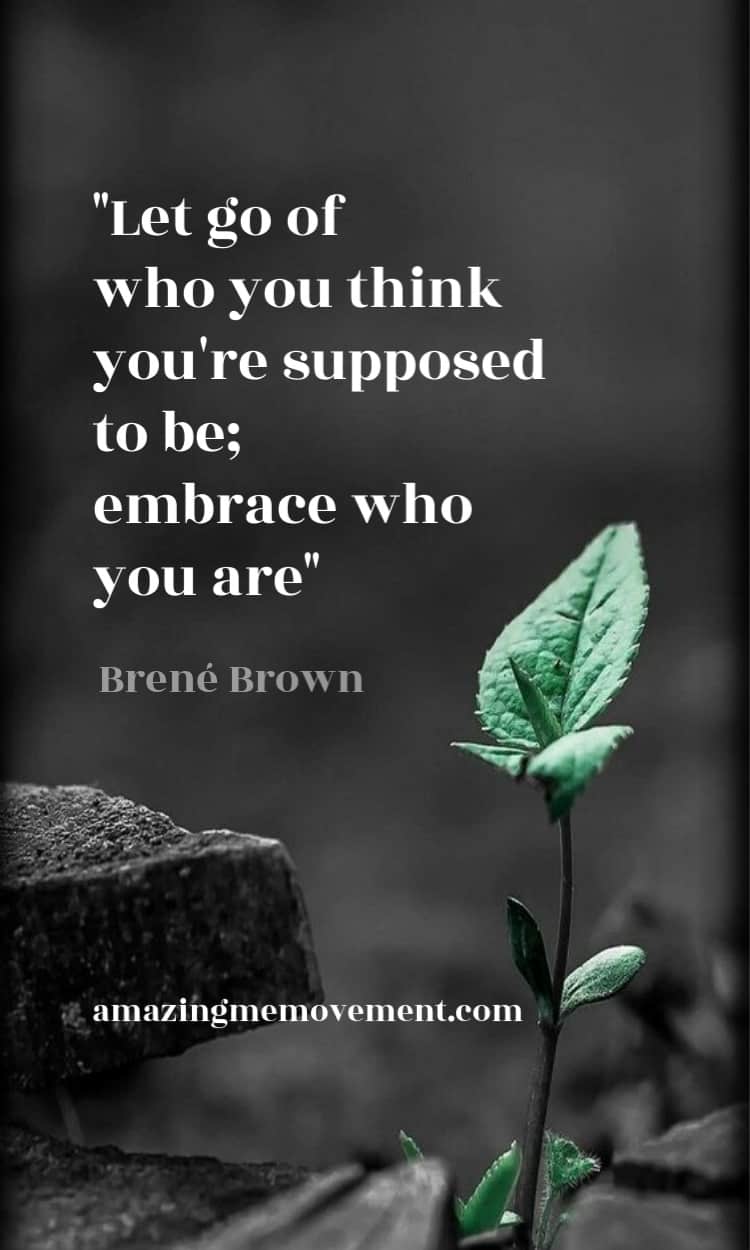 "I want to be in the arena. I want to be brave with my life. And when we make the choice to dare greatly, we sign up to get our asses kicked. We can choose courage or we can choose comfort, but we can't have both. Not at the same time."
"When I see people stand fully in their truth, or when I see someone fall down, get back up, and say, 'Damn. That really hurt, but this is important to me and I'm going in again'—my gut reaction is, 'What a badass.'"
"Courage gives us a voice and compassion gives us an ear. Without both, there is no opportunity for empathy and connection."
"Until we can receive with an open heart, we're never really giving with an open heart. When we attach judgment to receiving help, we knowingly or unknowingly attach judgment to giving help."
"Courage is like—it's a habitus, a habit, a virtue:  You get it by courageous acts. It's like you learn to swim by swimming. You learn to courage by couraging."
Brené Brown Quotes on Shame
If we can share our story with someone who responds with empathy and understanding, shame can't survive.
Shame is the most powerful, master emotion. It's the fear that we're not good enough.
"If we share our shame story with the wrong person, they can easily become one more piece of flying debris in an already dangerous storm."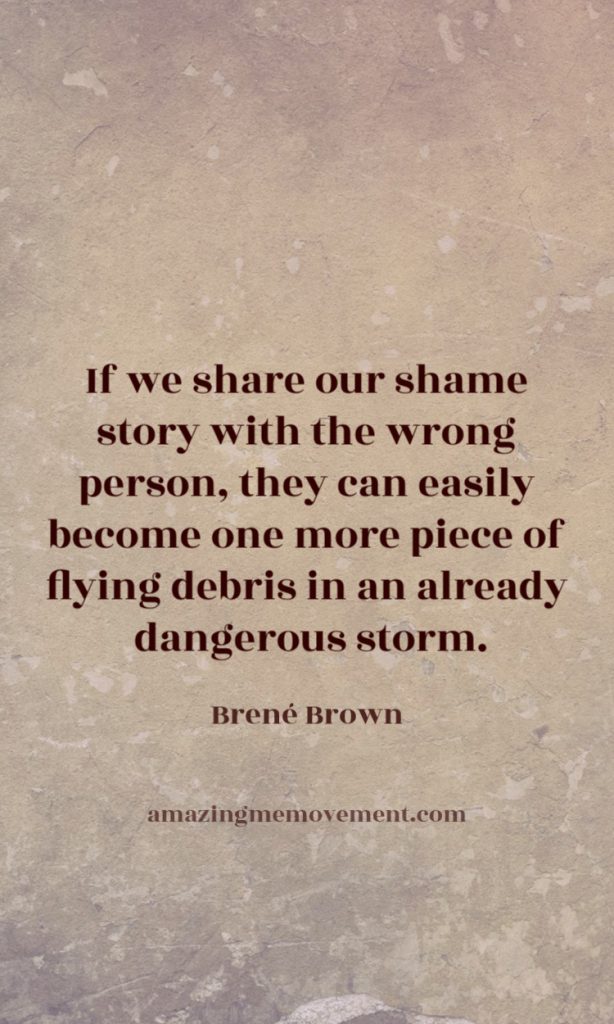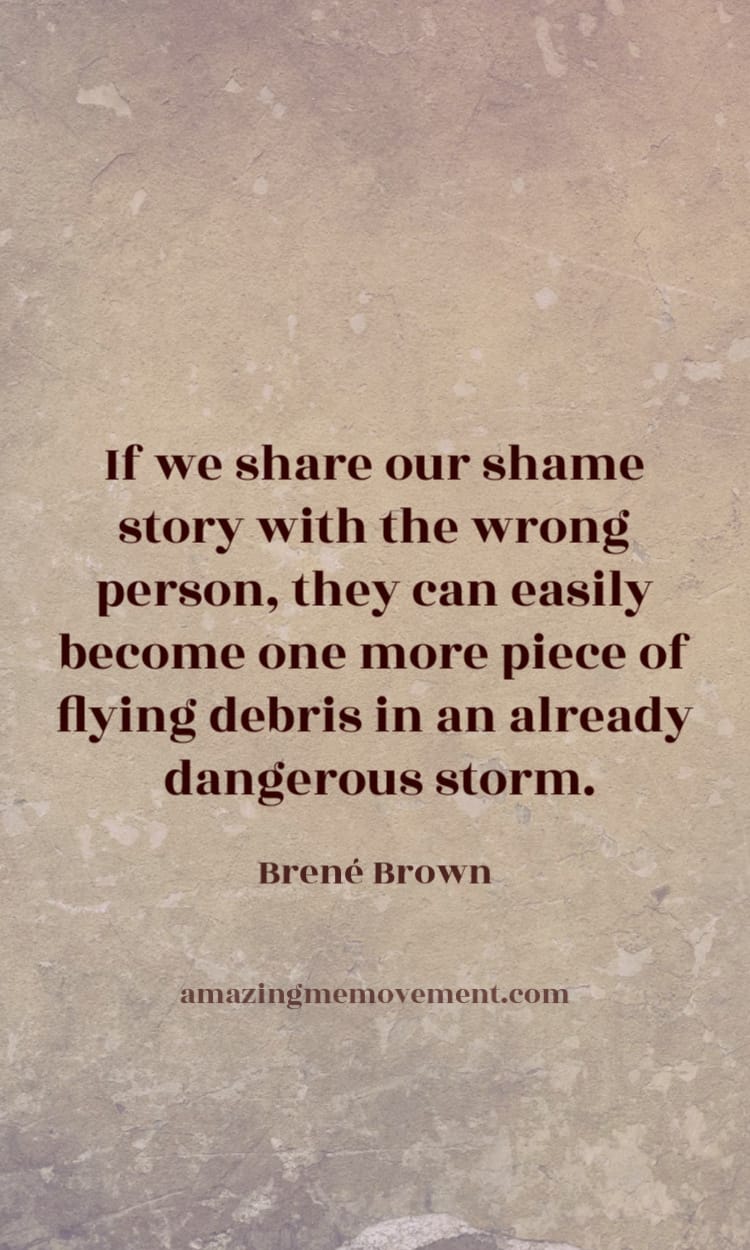 Brené Brown quotes vulnerability
Vulnerability is the birthplace of innovation, creativity, and change.
Staying vulnerable is a risk we have to take if we want to experience connection.
You can't get to courage without walking through vulnerability.
If you're not in the arena also getting your as* kicked I'm not interested in your feedback.
Most people believe vulnerability is a weakness but really vulnerability is courage. We must ask ourselves "are we willing to show up and be seen?"
Brené Brown quotes on love
Here's another great video from Brene Brown on empathy but this one is short and sweet and it's about the difference between empathy and sympathy. I think you might enjoy it!
Empathy drives connection; sympathy drives disconnection.
We can't practice compassion with other people if we can't treat ourselves kindly.
Self compassion is key because when we're able to be gentle with ourselves in the midst of shame, we're more likely to reach out, connect and experience empathy.
Empathy has no script. There is no right way or wrong way of doing it. It's simply listening, holding space, withholding judgment, emotionally connecting and communicating that incredibly healing message of "You're not alone".
Daring Greatly: How the Courage to Be Vulnerable Transforms the Way We Live, Love, Parent, and Lead
In Brené's bestselling book Daring Greatly, she talks about how important it is to be vulnerable in every aspect of our life. Too often, we protect our hearts and self confidence from others in fear of them being hurt and squashed by others but that won't serve you well at all.
Vulnerability is a scary thing for many of us to show. We feel weak and overexposed but the fact of the matter is, you're not. It's all about stepping into your greatness with bravery and courage and showing people who you really are, not who you think they want to see.
What does Brené Brown say about vulnerability?
Pretending to be someone else or trying to be someone else to fit into a situation is just bad business. You are trying to fit into a place where you don't belong. Fitting in doesn't serve us at all.
Brené Brown reminds us of the power of vulnerability and to learn to just open up to be ourselves.
Sometimes reading inspirational quotes remind us of some things we already know: be yourself, be true to you, don't pretend to be someone you're not and all those other good quotes.
In my opinion Brené Brown quotes are truly profound and totally make you stop and think about life and the way you are showing up in your life. Jen Sincero quotes are also really in your face and empowering!
Join the 21 Day Challenge today! Click the link here for full deets and to join hundreds of amazing peeps who have completely changed their lives after taking this powerful 21 day challenge!
Don't forget to share!
If you liked these awesome quotes please don't forget to hit that share button and send them along to your friends and family!! Sharing is caring.
Check out the links I added, to the books and to the other quotes blogs and get a good fix of empowering quotes to help motivate you to change your life, step into your power and be happier!
And in case you missed it, I actually added in two bonus Brené Brown quotes on shame. You're welcome!
Peace and Love
xo iva xo