This is raw, real and necessary. This is the kind of thing you need to do when it's time to dump toxic energy that has been swimming around inside of you for far too long. It had come time for me to sit down and write an open letter to all who have hurt me. The much needed forgiveness letter.
This is the letter of forgiveness anyone who has been hurt, needs to write to free themselves, not only from the anger and the pain, but from the toxic person who still lives in their head, rent free.
DID YOU KNOW?…I offer private Angel Card Readings? Powerful, intuitive and life changing. Not sure what this is? Click here  for more info and to book your reading today. Don't forget to check out the testimonials while you're there! Angel Card Readings.
This is an open letter to all who have hurt me. This is the "I forgive you for hurting me" letter that I so needed to write.
After you read this one, you might like this open letter to myself. SO powerful as well! It's another letter except this one is a forgiveness letter to your self. You're gonna love this one. Trust me on that!
This isn't to anyone in particular. It's just going out to all of them. The ex, family, my old friend who I thought was my friend, the guy who stole $1000 from me, former bosses, landlords, etc.
Yup, this is for all of you, any of you and none of you. If you recognize yourself in here, well, ya.
I forgive you for hurting me
I talk an awful lot about forgiving others. So many people still cringe when I tell them to just forgive the person who hurt you and let it go. It's hella tough to do that. I so get it. Trust me.
I had a million people in my life I needed to forgive.
But I realized one very important thing:
If I wanted to move on and have a happier life, it was MANDATORY for me to forgive all those who hurt me so I could move on with my life and leave the pain, past and hurt all behind. There's no other way you are going to come to a place of inner peace and self love until you do this.
Forgiveness sets us free. You have to understand that. You have to want this freedom more than the pain you are holding onto.
If after you have tried forgiving the people who hurt you and you are still desperately struggling with hurt, pain and anger and you feel your mental health is slipping, please reach out to a professional. BetterHelp.com has amazing therapists worth checking out.
Forgiving others and yourself
Too often we beat ourselves up over things that happened in the past. We will often say to ourselves "oh if only I had just done this differently" or "if only I wasn't so stupid none of this would have happened". Stop right there.
We do the best we can with what we know and how we feel. We do the best we can depending on the situation we are in. You are not to blame for anything that happened. You need to stop beating yourself up, take a moment to forgive yourself and let it go. What's done is done and there's nothing you can do differently now except learn and grow from what happened.
Forgiving others doesn't mean we condone their behaviour. Nope. Not at all.
When we forgive the people who hurt us, we are releasing them from our minds and our hearts and moving on without the built up and stored anger, hatred, hurt, excruciating pain and grudge.
They don't even have to know you forgave them! You don't do it for them, you do it for you.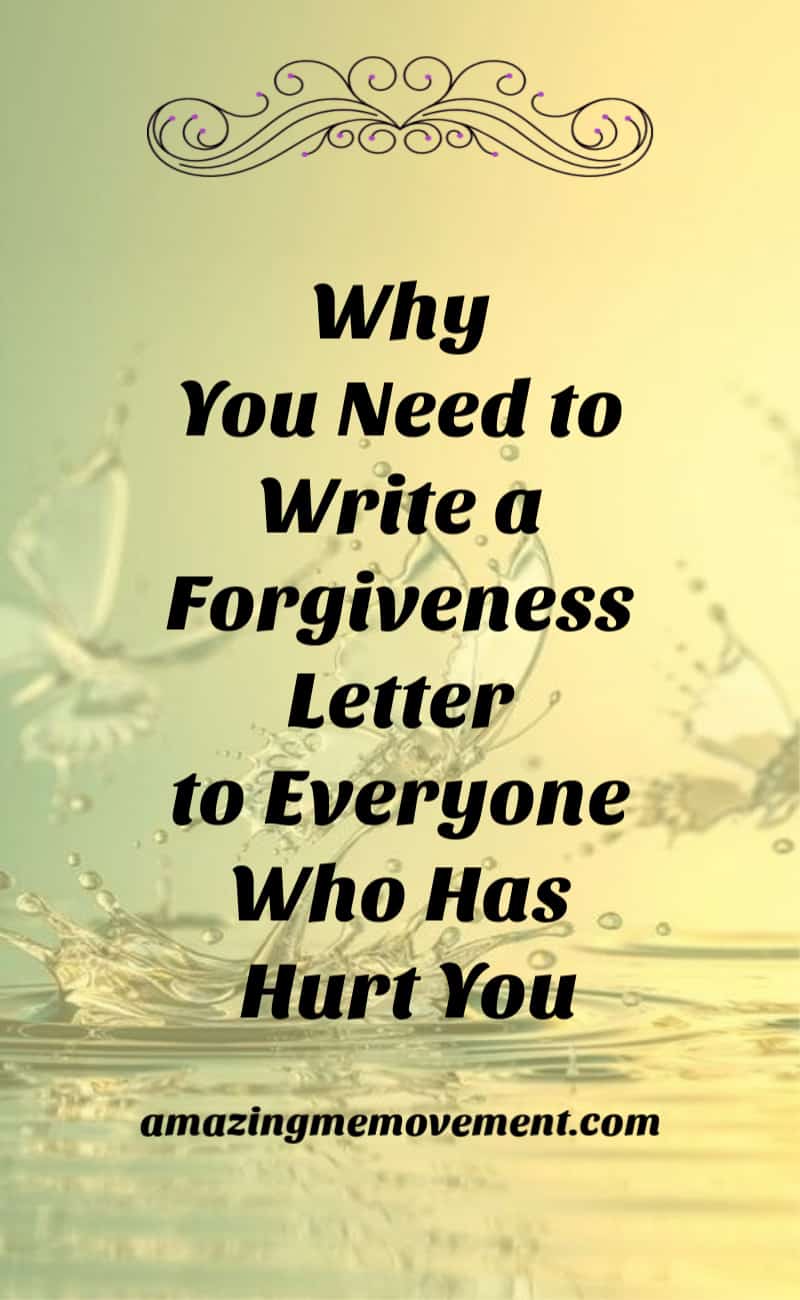 My forgiveness letter to all who hurt me
Dear You.
I know we never talk about the pain and that's ok. We don't need to. There is no point in rehashing all the crap that happened or what you did. How I felt then is very different from how I feel now.
I come from a place of peace, love and forgiveness now. Every now and then I do still think about what you did but I simply let it go.  I don't have room, time, desire or energy to think about the hurt.
You know what you did was horrible. I know it was too. There is no way in hell that when you were laying in bed that night, that you didn't feel the teeniest bit like a jerk for what you did. Maybe you even felt like that the next night too.
Of course you did.
Maybe to this day you still feel kinda bad for what you did. Maybe you don't. I don't really care. I really don't give a crap how you feel today. Know why?
Because I'm too busy feeling good and being happy and doing good and being a good person. I don't really have room in my head any more to wonder why and how you could be so mean, such a jerk, a thief, a liar, etc. You need to live with that, I don't.
You did what you did because of where you were in your life at the moment. Maybe you were sad or angry or full of hate or resentment or whatever! I have no clue. Maybe you really don't like me. Maybe you never did.
Maybe you being mean to me was your way of showing me you don't like me and I just didn't catch on. Maybe I didn't catch on because I desperately wanted you to like me, love me, be my friend, be nice to me. You continued your mean behaviour to me because I let you.
I wanted you to like me so bad that I offered up my self worth in replace of your approval.
Well, time  has passed. Days, months,  years even and I found something. Actually I found quite a few things.
self worth
self love
self respect
forgiveness
kindness
and peace.
The top 3 in that list will never be compromised again. Ever. The last 3 took time to find.
I love this video from Marie Forleo about forgiveness. I think you might like it too. She really explains it so well.

For the longest time I hated you. Wished horrible things on you. Called you very bad names. I spewed out your name. After a while, a long while of doing that, I realized it wasn't hurting you. It wasn't hurting you at all. You didn't feel a thing.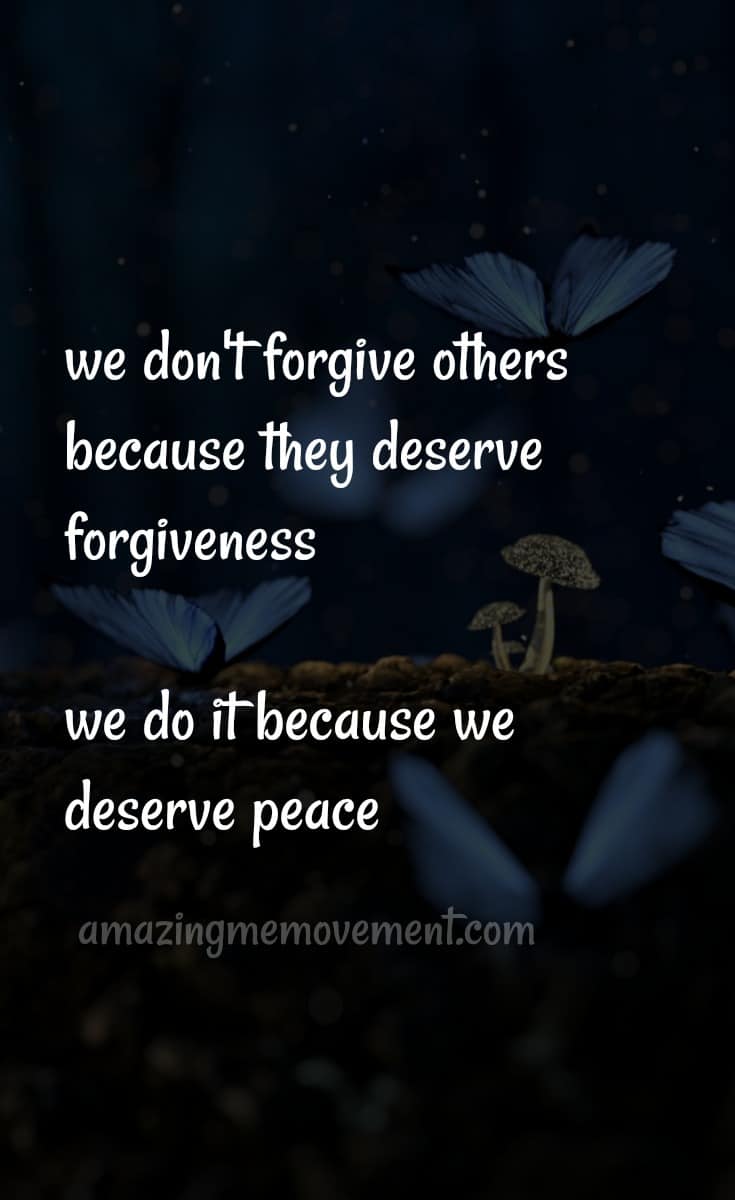 BUT it was destroying me. Eating me. Tormenting me. Every time I heard your name or thought of the terrible thing you did my blood would boil and I would get angry, so angry, sometimes even scream and cry.
Life is short. Too short. And it's going by so fast. I only have room in my life now for joy, love, happiness and peace. I forgive you for me, not for you. I send you love for you, not for me.
My forgiveness letter is for me, not you
What's done is done. What's happened is behind us now. Yes, every now and then I do still think about what happened but it comes and goes in two seconds. I don't let it stay in my head any more. Got no time for that.
I do sincerely hope you find happiness, peace, joy and love. I send you forgiveness and love. You, my friend, need it the most. No one who comes from a good loving place treats people the way you do. I feel sad for you but there is hope for you.
People change. I did.
Writing a letter of forgiveness to someone who hurt you is powerful and therapeutic
I believe everyone who has been hurt by a boyfriend, husband, wife or even a family or friend needs to write a forgiveness letter. Writing a letter of forgiveness to someone who hurt you is the best therapy you get. You are basically healing yourself. Your soul. Freeing your heart.
It's beautiful.
How do you write a letter of forgiveness?
Sit down alone in a nice quiet space. Light a candle if you want or burn some lavender oil. And start writing everything that is eating at you. Don't leave out one single solitary thing.
Write your heart out. Write until you can't write anymore. Write and cry your eyes out at the same time if you have to. Write a forgiveness letter to everyone and anyone who hurt you and still rents space in your head and heart.
If you need to write a forgiveness letter to a boyfriend expressing hurt feelings, then do it.
If you need to write this letter to a family member, boss, best friend or whoever, just do it.
Write as often as you have to, as often as the urge hits you.
Just write it all out. A word of caution though. Never send it to the person it is directed to. This is your forgiveness letter for you, not for them.
Did you love this post? Does what I share with you move you in any way shape or form? Do you love the blogs I share with you? If anything I have ever shared with you has inspired, motivated, empowered or enlightened you please consider supporting my work by buying me a coffee!!
A simple, small and lovely way to say "Thank you Iva"!! Click the button below. Thank you love you!! xoxo
I'm sorry, I forgive you, I love you.
This I forgive you because I love you letter helps me heal, feel love and let go of any and all hurt.
Are you stuck, sad, angry, frustrated or just plain unhappy? Check out my new self help eBook. From Hell to Happiness.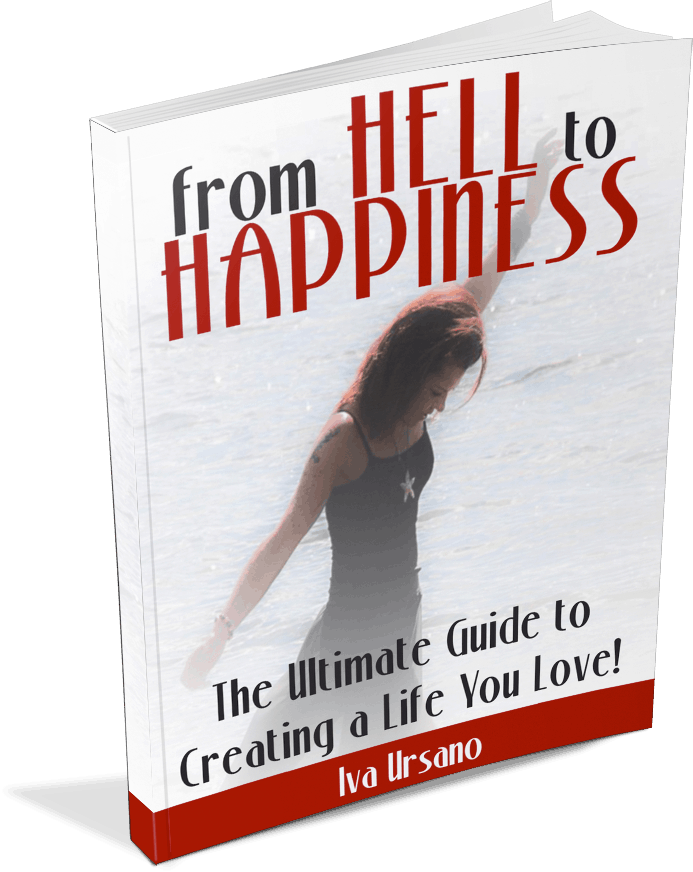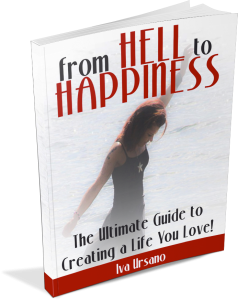 Peace and Love
Iva