How to Deal With Triggers From Trauma
Last Updated on 1 year by Iva Ursano
The past is a funny thing. I don't mean funny ha-ha, I mean funny hmmmm. We want to forget it. Really we do. We don't want to keep going back there. It sucks. We try to forgive and forget but we don't. I want to share with you a few ways on how to deal with triggers from trauma and other hurtful events and people.
Forgiving is not impossible, forgetting is.
You will never forget the things people did to you. Ever. Unless you totally wiped out all your memory cells, you will never forget. BUT, you can forgive.
Before we get too deep into this please check out this article I wrote on how to forgive someone who hurt you.
How to Forgive Someone Who Hurt You-6 Reasons Why You Should
Dealing with trauma triggers
There are a few things that still creep up on me and I hadn't realized just how much damage was done by my ex until I tried to function daily on my own and things would pop up that would remind me of him. UGH!!
It's not just memories from him, but other terrible parts of my life as well. My childhood, my son's father, my teenage years, old bosses, etc. You get the idea.
I'm not going to go into any of the sordid details but I will give you a couple of examples to put it into perspective for you.
Example 1:
To this day, I can't sleep with anyone. Like I have to be exhausted beyond belief in order to fall asleep in bed with someone. Sounds ridiculous doesn't it, but I have such sleep terror and anxiety that it just won't happen until I heal the trauma my ex caused me at bedtime.
I'm working on that still to this day but I have gotten much better.
Example 2:
I eventually forgave him and rarely do I think about that but every now and then it pops up.
I'm also still dealing with trauma triggers from being raised with no love, no encouragement or support and always talked down to. I was constantly verbally beaten down to the point where to this day, I still work on my self esteem.
See. We forgive but we never forget.
Identifying triggers
So the past creeps up every now and then and it haunts us like a really bad, or should I say, really good Stephen King movie. The sucky thing about it is that we could be skipping along throughout our day, minding our own business being all happy and chipper and whammo, a memory creeps up.
I think identifying triggers is very important. It is the catalyst to our healing journey. Know what is causing your grief, deal with it, heal from it and move on.
I know I know. Easier said than done.
But until we heal from the traumas and demons from our past, our triggers will control us and keep us crippled in fear and anxiety. You have to take control of that.
How to deal with triggers from trauma
Many horrific memories from my past come and go. They mean nothing. I'm over it. It's done. I've forgiven and I've even just about forgotten the hurt it caused me then. Just about. Most of my memories really do just fleet through.
But I've done an awful lot of inner demon healing work. The past had such a tight grip on me for so long. I was tired of it and also tired of singing the same old pathetic song of how hard done by I was. It no longer served me.
I want to share with you now a few ways to deal with triggers from trauma and other hurtful past things.
Dealing with triggers in 5 steps
I'm going to break this down into 5 steps or thoughts that will help you deal with triggers from trauma (or other hurtful things)
1 We don't live in the past anymore
It's important to remember that what happened in the past needs to stay in the past. That's not who you are anymore and you don't live there anymore. It was a part of your life that happened, albeit horrible, but you must let go of it.
Writing a truth or forgiveness letter to the person who hurt you will help you to heal and move on from it. It will also help in removing that toxic thought from your memory bank.
2 These thoughts no longer serve us
It's not healthy to hang on to grudges, hurt, anger or hate or any other toxic thought. It's important to let these go. Did you know that emotional pain often shows up as physical pain too? Yup.
When you think about these toxic thoughts stop yourself and remind yourself that's not what you want to think right now nor feel. Choose forgiveness, peace and happiness.
3 Breathe through it
When a trigger rears its ugly head, step back and do some deep breathing. Don't forget this is just a thought, it's not the reality of your life anymore. You don't live in the past.
Sit quietly and do some deep breathing, nice and easy though. This little exercise will help you a lot:
close your eyes, relax your shoulders and breathe in
when you blow out deeply, visualize the negative thought blowing away
do this until you feel calm again
4 See through the eyes of love
This is a tough one but someone taught me this years ago and I've never forgotten it and still do it to this day. Next time you have a trigger and the memory from this person and event is causing you pain and anxiety, stop the thought and try to see them through the eyes of love.
My parents raised me the only way they knew how and it was pretty bad. Obviously I forgave them (and they're both dead now anyway) but it helped me to see them through the eyes of love. It turned my anger and hate into compassion and sympathy.
5 Face the demon
I'll admit, this is a hard one but it's so important to your healing. You have got to dig deep and find out what is causing the trigger in the first place. Something from your past hasn't been dealt with effectively nor healed.
You need to take some time to do the inner work. Dig out all your demons, write them out on a piece of paper in front of you so you can see them, and then one by one, slowly but surely, start dealing with them and healing from them.
This is one of the many ways to get over your past and deal with triggers. Face them, heal from them and release them.
How to deal with triggers in order to move forward
It's no secret that until you start healing old trauma you will constantly battle triggers and anxiety. I can't stress enough how important it is to heal your trauma so you can move on and be happy, learn how to deal with triggers and finally have some inner peace.
Remember this is the only life you have to live and you don't need to live your life stuck in the past with all that pain and trauma. You are here for a life of crazy ridiculous joy but it's up to you to achieve that.
I'm now offering one on one trauma coaching. Click here to book a free 30 minute discovery call to see how I can help you get past trauma and finally enjoy life.
You might really like my 21 day challenge course. It helps you get from miserable, stuck, frustrated and angry to a life of crazy joy. Check it out here or click the image below for more information.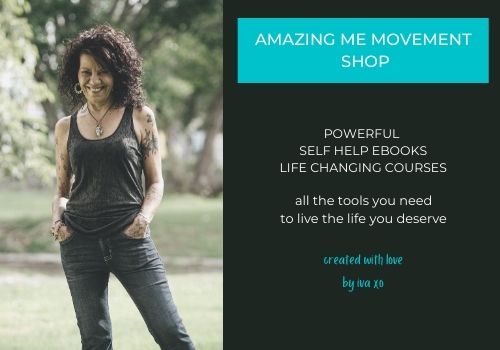 Pin
Peace and Love
Iva