8 Signs To Move On From a Relationship
Last Updated on 1 year by Iva Ursano
When to move on in a relationship? The million dollar question. How long do you let it go on for until you finally had enough and move on? Today I'm going to share with you 8 warning signs to move on because sometimes when we're so deep 'in love' or feel stuck, we ignore the signs.
I've held onto relationships for way longer than I should have just in hopes that surely it will get better.
We all think like that, right? He or she will smarten up OR maybe it's you that needs to smarten up. Who knows really and, quite honestly, it's not my business but you know something has got to give. So how do we know when it's time to get out then?
(this post contains affiliate links so if you make a purchase I make a small commission-affiliate disclosure)
Before we move on, you may want to check out my new self help shop. I have recently packaged up all my self help ebooks and added a few powerhouse life changing courses! Click the link here to learn more or the image below.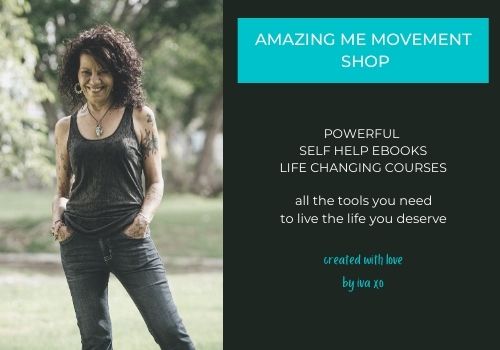 Pin
When to move on in a relationship
My last relationship was a real eye-opener for me. I hung on for SO long and it was absolutely ridiculous BUT I have to tell ya, to be honest, it sure taught me a lot about myself.
Maybe I was supposed to hang on for so long in order for me to grow? There were many times I knew when to move on in a relationship but honestly, I was scared to go.
Though I know I stayed too long, I'm kinda glad I did because the person I am today probably would never have emerged unless I had those lessons. I put up with a lot and I imagine he did too. I am not perfect by any stretch. I think we both hung on for the same reason.
But the day came and I knew it was time to move on and let go of this.
You might really like these relationship articles too
10 Covert Passive Aggressive Narcissist Traits to Watch Out For
How to Leave a Narcissist-8 Things to Do Now
10 Ways to Heal From a Toxic Relationship
15 Signs of Disrespect in a Relationship Never to Ignore
And then came the signs to move on
I was clinging on hoping that it was going to get better and kept ignoring the warning signs to move on.
Eventually, all the little signs were starting to add up. The signs showing me to the door. The only difference this time is that I was actually following them. Here were my signs.
If you are in a relationship with a narcissist and having a hard time leaving PLEASE check out this powerful program created by Kim Saeed.
8 signs to move on from your unhealthy relationship
1 Rudeness was becoming more frequent.
I mean really rude. Like saying rude things to me that you would only say to someone you really didn't like. You know the stuff you blurt out to some jerk who cut you off on the road while you're driving. Ya, stuff like that.
If you or your partner is doing this, stop. Just stop now. It's mean and hurtful.
2 Are you ignoring me again?
That was up there on the list. Why would you want to ignore someone you live with, claim to love and claim to be best friends with? I don't get that.
I think for me, being ignored is one of the most hurtful things you can do to me. Don't I matter? Don't you care?
If your partner is purposely ignoring you (which is a control thing) please know that's disrespectful, mean, rude and a manipulator tactic.
You might like this video on my YouTube channel Women Blazing Trails about how to leave an abusive relationship.
3 Bullying isn't just in the schoolyard anymore.
Bullying is for cowards and jerks. Period. If your partner is a bully he/she needs to know that this is abusive behaviour (yes it is) and they either need to seek help and get to the bottom of why they are bullies, or you can together get counselling but if those aren't options, well…
The next thing to do is pack your stuff, move on and let go…
I'm no relationship expert, please know that, but one thing I do know and stand behind is that no one has the right to mistreat you. If outside help isn't an option for your partner or for you together as a couple, then just leave.
4 Scared to talk about some things.
You know that if you bring up a certain subject again it's going to be a huge argument again. But it's not just like family dinners, it's more serious and more often.
Seems these days you can't really bring up too much without your partner losing their marbles.
When you have reached a point where trying to discuss anything civilly is a disaster, it might be time. What's the point in staying in a relationship when you can't discuss things rationally like adults and you're afraid all the time.
What's the point??
5 Many things are starting to become less pleasant.
Things like shopping for groceries, road trips, maybe even sex. There is either usually an argument or it just simply isn't pleasant for whatever reason.
For me, shopping started becoming a nightmare. It was his way, he bought what he wanted, he never walked beside me, always ahead of me, it was horrible…which leads me to #6.
6 Walking ten steps ahead of you.
This falls in the rudeness category too but it really is a combination of many things I think:
it's a power trip thing,
it's super ignorant,
it's a control thing,
it's belittling
and mean.
I can really go on and on here but this, for me, was the meanest thing he used to do. I got so tired of feeling like that little person.
7 I don't think I like you, really.
Love and like are both kinda necessary to have in a relationship. When I got to the point where I didn't even like him anymore, I knew it was time to move on and let go of this toxic relationship.
I loved him when he was on his best behaviour but really despised him when he was a jerk, which happened more than I would have liked near the end. I simply didn't like him. I had to go.
8 Giving the third degree
Omg.! When you have to start the 3rd degree, give it up. If it's that bad that you have to ask a million questions every time they step foot in the door, leave, just go, like right now. You have no trust and I seriously doubt you ever will.
That's what happened to me? I was the one with a million questions because I didn't trust a single thing he did. I already knew he lied to me on many occasions. Having to live like this giving him the 3rd degree was harmful to me and him.
It was downright pathetic. That's no way to live.
This is a great article on relationship anxiety!
The Main Cause of Relationship Paranoia (and how to fix it!)
Moving on from someone you love
Listen, I totally get how hard this is to do. Trust me. I've had to do it quite a few times in my life. These signs happened to be in my last relationship and were the catalysts for me to finally move on.
Moving on from someone you love can completely suck the life out of you. There were certainly days my heart ached so bad I wanted it to just all end. You feel like you don't want to go on anymore.
Trust me, I know how hard it is.
But you have to trust that it's for your own good and there are way better things ahead for you. I promise there is.
Is it time for you to let go and move on?
Do you recognize any of these signs to move on and maybe counselling isn't an option anymore or never was or who knows really? Mine lasted two sessions in counselling and declared "let's just settle this at home with a bottle of wine"
Yup, that's great. It was pathetic.
Letting go of an ex is exhausting, long, sad and liberating. You have to decide that you need to do this and make all the necessary changes in your life in order to move on.
If you are in a relationship that has any of these signs, you already are alone and unloved. You deserve so much more. Really. Get out.
Yes, it's hard to just pick up and leave but it's not impossible either. A happier life awaits you on the other side.
If you are in a relationship with a narcissist and having a hard time leaving PLEASE check out this powerful program created by Kim Saeed.
Peace and Love
Iva