Why Do Women Stay in Abusive Relationships?
I'll admit it, I certainly stayed way longer than I should have. I probably should have turned on my heels at the 3rd month, the first time he lied. But I didn't. I stuck around for almost 8 more years (ya I know, what a dummy). Why do women stay in abusive relationships?
The million dollar question and I'm going to try to explain it as best I can in this article. If you have other reasons why you stayed please leave them in the comments below. We all have our reasons. I am sharing my 5 with you.
Why do women stay in abusive relationships?
I used to wonder all the time why women stayed in abusive relationships until I was stuck in one. For almost 8 years.
8 years of more lies, bullying, emotional and verbal abuse. 8 years of living in an abusive relationship.
8 years of second guessing, mistrust, walking on eggshells. It was pure torture but leaving abusive relationships isn't as easy as people think though. I honestly didn't realize he was an abusive lover until much later on in the relationship.
I'll give him some credit though.
In all honesty, I can't say it was all that bad. I mean, I did stay for 8 years so there had to be some good in all that, no? Sure, there was some good. I didn't want for anything, really. He had his very caring and loving moments.
He also had his fun and funny moments. We had some good times. There were trips and parties and other fun times.
But….I definitely should have left many times during the 8 years we were together. Many many times. So why didn't I? Why did I stay for as long as I did?
(this post contains affiliate links so if you make a purchase I make a small commission-affiliate disclosure)
Signs of abusive relationships
So many of us are in these types of relationships and aren't even aware we are being abused. Abuse isn't just physical and sexual. There is also:
mental
verbal
emotional
psychological
…and a few others! So why do women stay in abusive relationships? Sometimes we don't even realize we're being abused.
Psychcentral.com has this amazing article on the 21 Warning Signs of an Emotionally Abusive Relationship. 
Take a minute to have a read. It clearly lays out what to watch for. Also, keep in mind abusive relationships aren't just with your partners/spouses. They can include family members, co-workers, or neighbours. Pay attention.
Though physical and sexual abuse are two extreme types, emotional/mental and verbal do just as much damage. It's hard to heal from being tormented mentally for years. Words cause a lot of damage. Trust me on that one.
Why we stay in toxic relationships
I could probably give you a million reasons why we stay in these unhealthy relationships. I'm gonna break down my 5 reasons for staying but here are just a few more that many other women/men have shared with me (and yes, men too are victims of toxic relationships)
fear that no one else will want us
fear for our lives
we think things will get better
we think things aren't so bad and others have it worse
we have no money or nowhere to go
fear of taking the leap and starting our lives over again
Let's face it, starting over is scary and exhausting. It's also frustrating and time-consuming. We have to learn new things. We have to heal our wounded hearts and souls. We have to retrain our brains into believing that we are worthy of more.
There's so much work that goes into it but it's ALL so worth it!!
Why I stayed in my abusive relationship
Here are my top 5 reasons why I stayed. I look back now and wish I had left sooner but then again I think about everything I learned about myself and this toxic relationship, all the life lessons, and how it made me so much stronger.
I wouldn't be where or who I am today without going through all this. I'm not saying you should stay longer and keep going through this. Oh hell no. All I'm saying is that instead of beating yourself up for being in this abusive relationship longer than you should have, take the lesson and grow from them.
You are stronger than you think.
1 I'm scared
I've been here so long now, with him taking care of me and telling me what to do and how to do it and when to do it, how will I ever manage on my own? Where will I go? How can I possibly leave him? Was being scared a good reason to stay?
At the time it was for me. Though leaving this unhealthy relationship is hard to do, being scared of the alternative keeps us there….besides….
I can't do this without him.
2 Being single makes me sad
Loneliness sucks. Dating is bull. I don't want to have to go through that whole dating thing all over again. I can put up with all his crap just so as to not be alone again. He's not all that bad is he? Besides…
I can't do this without him.
3 How do I live alone?
I've never lived alone. Ever. I know that sounds ridiculous but honest to God. I've never lived alone and I really wasn't sure if I knew how. The thought of it freaked me out. I don't want to live alone. I don't know how.
We settle for abusive relationships because being alone sounds scary as heck and….Besides….
I can't do this without him.
4 I don't know how to do things.
For real. How do I plan a day or a weekend or cut veggies or set the table? Do I know how to plant a flower? Of course not. I don't know how to do much of anything these days. The thought of having to learn how to do any of these things kinda makes me feel awkward. Besides….
I can't do this without him.
5 I have nothing
Not a single solitary thing. I have the clothes on my back and my crazy little canary (he's dead now though RIP). I have no job, no money, no self esteem, no self worth, no self confidence. I got nothing. Not a single solitary thing.
What  am I supposed to do and where the hell am I supposed to go? Besides…
I can't do this without him.
…or, can I?
Do any of these reasons look familiar to you? Did you just nod your head? You totally get it, I know. Does this make sense and answer the question "why do women stay in abusive relationships"?
My self help guide From Hell to Happiness talks alot about leaving abusive relationships behind. Click the link below, learn more and download your copy today!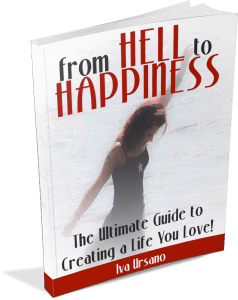 Digging deep and finding bravery, courage, strength and determination to leave my unhealthy relationship
Can I? Can I just pack what little stuff I have and start a whole new life all by myself? Me and my bird and my low self worth? Can I pull up my big girl panties, hold my head high, and walk out the door with confidence?
Well, one day I snapped. It happened. I had had enough. The breaking point finally came. It didn't matter anymore that I had nothing. It didn't matter that I was scared out of my tree. It didn't matter that I had no clue what I was doing.
All that mattered, at that exact moment, was that I was done. I was so done. It was just time to leave this abusive relationship no matter how hard it was going to be.
All that mattered was that regardless of how scared I was, my happiness was lost and it was time to get it back.
All that mattered was that regardless of the fact that I was just a shell of a woman with no clue what the future held, I was ready and willing to find out.
All that mattered was that it was time for me to find joy, happiness, love, peace and freedom.
Leaving an abusive relationship is scary af!
Every ounce of me was screaming at me to *please leave*. Just go. Get out now. If not now, when? What are you waiting for? Get out. Girl it is time to leave this toxic relationship. Capiche?
…and I proceeded to write my *Dear John* letter.
…and I left
…and I found joy and peace and happiness and freedom and love, self love to be exact.
…and I haven't looked back.
Are you staying longer than you should? Are reasons for staying the same as mine? You might like this post about knowing when to end a relationship.
5 Questions to Ask Yourself Before Ending a Relationship
How can I get out of an abusive relationship?
As I mentioned earlier, it's not as easy as people would like to think. We hear all too often "well just leave!". You have to be in that situation to understand how terrifying, crippling and hard it is to do. If we could just pack up and go we would have done it a long time ago.
I get asked this question by a lot of people. How can I get out of an abusive relationship??
I'll be honest, I had no plan. All I had was faith that things would work out for me and determination to get my life back. I prayed an awful lot and cried even more.
But if I were to give you any advice I would say to make the decision that you are going to do it and act on it. Don't wait until next month or in 6 months or in 2 years. Something will always come up that will leave you stuck.
Fear will keep you there. You must face your fear and decide to leave…and then leave.
I found this amazing YouTube video on leaving an emotionally abusive relationship. I think you might really enjoy it! This woman nails it.
5 Questions to Ask Yourself Before Ending a Relationship
If someone you know is trapped in an abusive relationship please share this article with them. It just might save their life.
Life after abusive relationships
Hard to imagine you can actually be happy and have inner peace and freedom and joy right? It was hard for me to believe that this kind of life even existed, but it does.
You have no idea what kind of life is waiting for you on the other side but trust me when I tell you it's definitely way better than the hell you are living in now.
You deserve more than what you have been settling for.
If you need help leaving an abusive relationship please take a minute to check out Kim Saeed's courses. She's really amazing and her courses are powerful.
The Essential Break Free Boot Camp
I love you xo
Did you love this post? Does what I share with you move you in any way shape or form? Do you love the blogs I share with you?
If anything I have ever shared with you has inspired, motivated, empowered or enlightened you please consider supporting my work by buying me a coffee!!
A simple, small and lovely way to say "Thank you Iva"!! Click the button below. Thank you love you!! xoxo
Peace and Love
Iva