How to Deal With the Brutal Emotions After A Breakup
How to handle all the feels after a breakup
So you've found a new partner. He's awesome. You love him. He's the best thing in the world. Better than chocolate and margaritas (ok well maybe that's a bit of a stretch). He brings you flowers, wines and dines you, opens the car door for you, bla bla bla. You never once think you're gonna break up.
The thought doesn't even cross your mind at this point. We all know how much that sucks and how hard it is to deal with emotions after a breakup. UGH.
Anyway, moving on…..
He's a gem. Time goes by. 3 months, 6 months, 12 months. He ain't so great but you ain't kicking him to the curb yet. There's still hope and still time to change him, right?
Wrong. You ain't changing anything sunshine.
18 months, 2 years, 3 years. You're still plugging away. You know this isn't right. You know this can't be good for you. You're losing hope and you're officially tired. Tired of everything. Tired of fighting, crying, pulling out your hair, hoping and waiting for things to get better.
You're just plain tired.
You know what you have to do next. Get the #$@% out. But how? What now? Where will I go? How can I make it on my own? And not only that, how do I deal with all the sadness and other crazy emotions after a breakup?
(This article contains affiliate links so if you make a purchase I make a small commission-affiliate disclosure)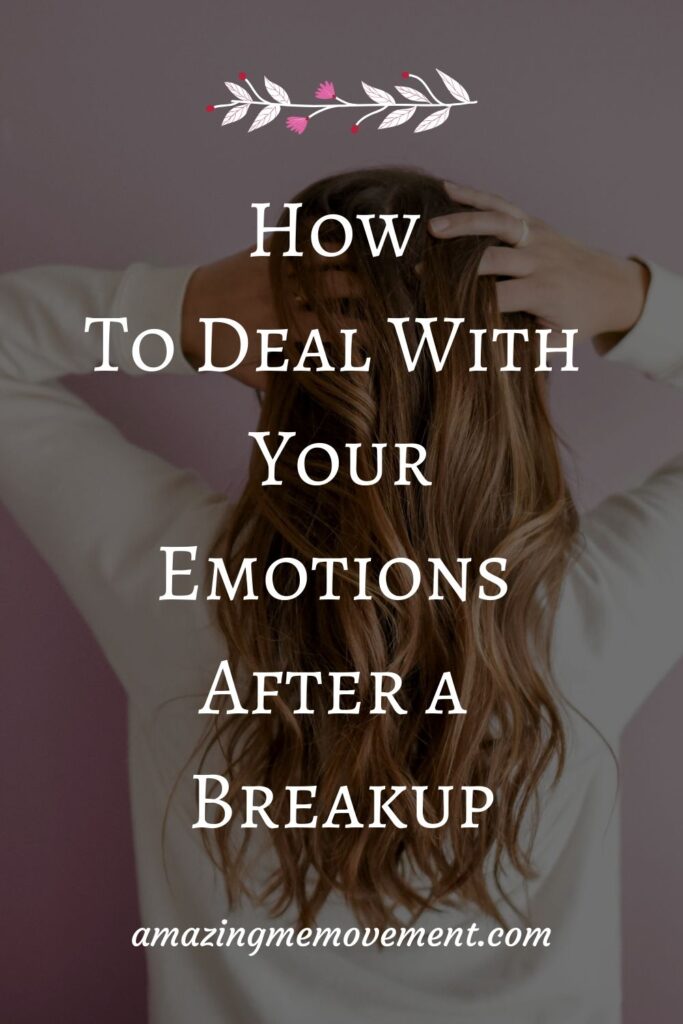 Knowing when it's time to breakup
7 years into a volatile relationship, I knew it was time for me to flee. I was scared out of my mind with too many unanswered questions. Especially "How am I gonna be able to survive after a breakup with this man"?
Fear had completely taken over and I was lost, dazed, and confused. All I knew was that it was time to get out.
Period.
I didn't have two cents to rub together, had donated most of my belongings to charity, and had a job that could barely afford me a room in a rooming house let alone a one-bedroom apartment. I had nothing.
And I didn't care. I was leaving. I never once imagined this break up was ever going to happen. But it was happening
All that was needed was determination, faith, and God. And I had all three. Off I went. It definitely wasn't easy but neither was the alternative. I had lived a life of misery long enough.
We stay in abusive relationships for all the wrong reasons
I can't totally bash this poor guy, right? I mean I was with him for almost 7 years so there had to be something good there, yes? Of course, there was. It was the good that kept me there.
He's loving (when he wants to be), he's kind (when he's in a good mood), he's funny (if he's sober) he's patient (cause he could not care less otherwise).
Yes, there was certainly some good stuff there. I was secure in a big beautiful house, in a great neighbourhood. We went on trips. I didn't want for anything.
My friends and family thought he was a great guy. Always polite and helpful and kind. Soft-spoken, smart, and funny. Yup. There was lots of good. Why would I even think of leaving him, right?
Unfortunately, the good didn't outweigh the bad. The bad was downright ugly. How can someone so loving and kind, be so ugly and mean? I could never understand it and I didn't want to waste any more of my precious time trying to figure it out.
I was done.
What to do after a breakup?
The first thing I had to do after the breakup was to get my life in order. It was a hot mess.
And the frantic phone calls began. Sisters, friends, friends of friends, old bosses. You name it, I called them. I had a plan, determination, and faith. I was finally doing this.
Much to my surprise, doors opened everywhere for me. People came out of the woodwork to help me.
I knew right then and there that THIS was exactly what I was supposed to be doing. The Universe had been waiting for me to do this for a long long time and it was supporting me in every way, shape, and form.
How about that.
For the longest time I had been fighting this, afraid of this, not looking forward to doing this, afraid of not sure how I was going to survive after the breakup, and all along this was exactly what I was supposed to be doing.
Leaving this abusive relationship.
I found this really awesome video on YouTube from one of my favourite channels, Psych2Go. This one talks about the 7 stages after a breakup. I think you might enjoy it.
Dealing with emotions after a breakup
I spent many an hour, day, week sobbing hysterically and afraid for the future. I had no idea how to live without this man. I had no idea how to live alone.
It was tough.
I had to go through all 7 stages of grief, even though, yes, it was me who left. I still had to grieve. 8 years is a long time to be with someone, especially someone who completely controlled and emotionally manipulated you.
7 stages of grief
Shock
Pain
Anger
Depression
Upward turn
Rebuilding your life
Acceptance and Hope
I had to rebuild my life and remember who I was before him.
But I also had to make sure I went no contact. Completely. Nothing. There was no way I was ever going to heal, let go and move on if I kept in touch with him.
I had to do this on my own, without him and without more false promises. I couldn't give him an opportunity to make any more promises or beg me to come back.
It was hard af but I did it. And I started my healing journey. It was ugly and frustrating and sometimes even hopeless but I made it through. After the breakup, I dealt with each emotion as it presented itself.
Remembering why you left in the first place
I had to keep reminding myself of all the bad. I had to remind myself why I left. I had to teach myself how to value myself again. I also had to find:
self-worth
self-confidence
self-love, and
self-esteem.
I lost all those while I was with him. I was a shell of a woman. I had to remind myself that I am worthy of love and respect. I had to learn how to set boundary lines and never be treated like that again. After the breakup I was able to do just that. Form boundary lines and maintain them.
Find out more about how to set boundary lines in my latest self-help eBook here: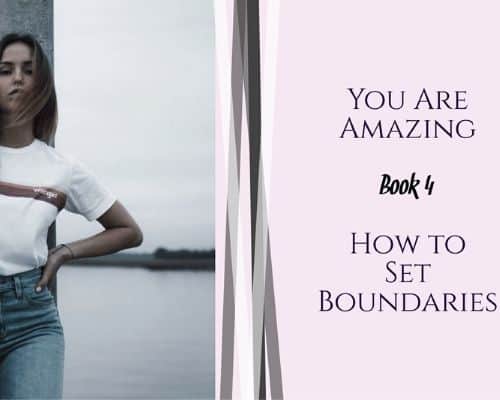 So.much.work.!!
But we can't keep going back to the same bulls**t time and time again. Nothing changes, even after all the promises. We just can't change people BUT you can change yourself! And learn to love and respect yourself again.
How to deal with all the brutal emotions after a breakup
Just deal with them. It's hard and painful and messy but you must do it.
You have to know that it's often fear that keeps us where we are not meant to be. We are too afraid of changing anything. We don't like the unknown so we stay where it's comfortable.
Comfortable isn't best for us.
You have to remember that your happiness comes first. If you aren't happy then do what you have to do to be happy! It's up to you to do that.
Don't look for your happiness in anyone else or in a relationship. That's not where it comes from.
I read self-help eBooks (and now have even written a few myself), watched motivational videos, journaled my emotions every day. You name it I did it.
I was determined to change my life after the breakup and become a better more loving version of me. And I did it.
So can you. There is life, a sweet much better life, after a breakup. It's up to you to create it for yourself.
If you feel you need professional help please check out online-therapy.com. I have recently partnered with them and they are absolutely amazing. Click here to learn more. 
If you are dealing with a narcissist and need help with that Kim Saeed has an amazing program to help you break free. Click here to learn more about her course. 
Peace and Love
Iva